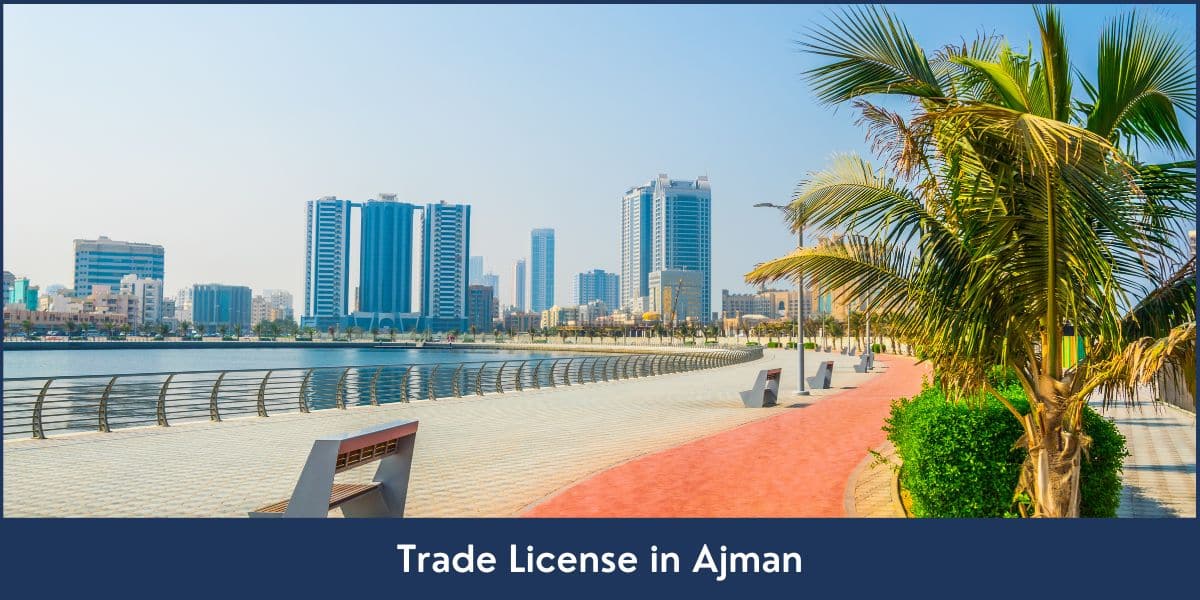 In Ajman, company formation provides tons of lucrative business options for investors and entrepreneurs. This has generated a significant amount of demand from foreign investors, aspiring business owners, and SMEs to start a business here. The simple procedure for obtaining a trade license in Ajman is another important factor in company formation in this Emirate. Additionally, the low cost of the Ajman trade license and the limitless opportunities available on the mainland and free zones of this Emirate have increased demand for business establishment.
Before we understand the Ajman trade licensing procedure and the numerous factors affecting the cost of forming a company on the mainland and in the free zone of Ajman, let's find out some strong reasons to start a business in Ajman
Why Start a Business in Ajman?
Before we move on to the process of getting a general trading license in Ajman, we should find out the benefits of starting a business here. Here are some of the top reasons to establish a business in Ajman right away:
Business can be Expanded
Ajman is a great place to set up a company since it offers significant growth and exposure to the rest of the world, making it the perfect fit for emerging businesses and startups. Ajman mainland and free zone offer scalable commercial platforms in addition to affordable business setups. Depending on the size of the business, you can be able to start a business in Ajman with a small initial investment.
Cost Effective Option
Whether offshore, mainland, or in a free zone, the cost of an Ajman business license is the lowest. Other than that, forming a company in Ajman has a number of advantages. These advantages include lower lease payments, affordable real estate, and rented space. Trading businesses can easily access four ports and two international airports. The emirate also has a good infrastructure system that is affordable for all investors and businessmen.
Jurisdictions
We all now know it is very much fruitful to start up a business in the mainland, offshore, or free zone of Ajman. The Ajman free zone has the lowest business establishment costs in the area for businesses. International investors can easily understand the advantages of setting up a business in an Ajman free zone, thanks to these economic zones. Create a company in the Ajman free zone and re-domicile it whenever is now much more convenient for you.
Re-domiciliation services are available to offshore businesses operating in the Ajman free zone, enabling direct investments from foreign investors. In addition to that, forming a business in the Ajman free zone ensures complete confidentiality with full ownership, minimal financial disclosures, tax benefits, minimal capital, or paperwork & documents processing requirements, etc.
Affordability
Compared to other Emirates, setting up business in Ajman mainland and the free zone is more affordable. The setup fees for an Ajman company are affordable and inexpensive when compared to those for other companies in this emirate of the UAE. It doesn't matter whether you're looking for a general maintenance license, office space in a jurisdiction, a sole proprietorship, or a general trading license, Ajman will always be your best choice for financial terms.
Required Documents for Trade License Ajman
Following are the documents that you need to submit to get a trade license in Ajman, UAE:
For Business
Security clearances (for residents)

Trade name reservation certificate

A copy of the passport and a valid ID (for all business partners)

License application
For Individual
Security clearances (for UAE residents)

Trade name reservation certificate

A copy of the valid passport and ID card (for the business partners or owner)

License application
The Ajman trade license cost or service fees for issuing a trade license in Ajman change according to forms and legal procedures. You can get in touch with experienced business setup consultants like RIZ & MONA for information on the cost of obtaining this license in the UAE.
Process to Issue Trade License in Ajman, UAE
Step 1: Submit the application to the service centers
Step 2: Submit the required documents
Step 3: Get third-party approval. Approval is given depending on the business activity
Step 4: Get the lease contract data
Step 5: Pay the fees for the trade license application
Step 6: Obtain the trade license
Step 7: Opening an investor link account in any corporate bank of Ajman
Step 8: Reserve a trade name for your business
Step 9: Then, approve a service agent contract. This contract is a business partnership as per the legal form of the trade license (a sole proprietorship represents the capacity of a service agent).
Step 10: If the legal form is companies, get the Articles of Association approval. The legal form of companies include:
a simple partnership company

a limited liability company

a joint liability company

a single-person company
Business Activities in Ajman
Activities under Ajman license can be categorized into three main groups.
Industrial

Trading

Service
Ajman trade license activities list can be received from the official website or the government department. One service activity or three trading activities are both permitted in Ajman's license. Not even an additional payment gives you room for an extra number of activities.
Additionally, this emirate added a category of freelance permit in 2019 that permits having a license and a 3-year visa at extremely affordable prices.
Warehouses and Offices in the Free Zone of Ajman
The following facilities are easily available at the Ajman Free Zone Authority:
Warehouses

Flexi–desks

Office



There are no monthly time restrictions on the use of flex workstations. Offices and Flexi-desks can be found in the nearby skyscraper or free zone's administrative building. The warehouse complex has expanded tremendously and now encompasses the entire region surrounding Ajman seaport. Ajman free zone is direct across the street from the immigration and customs offices.
FAQs – Frequently Asked Questions
How can you issue a business license in Ajman?
Follow the following steps to issue a business license in Ajman:
Reserve your company's trade name

Obtain the preliminary approval

Draft an MOA

A service agent contract is required for an occupational license

Obtain a lease contract from the Real Estate Regulatory Agency
What types of business licenses can be issued in the Mainland of Ajman?
For company formation in Ajman Mainland, six types of licenses are available. They are:
General Maintenance License

National industrial license

E-commerce License

Trading License

Professional/Service License

Industrial License
What Documents are required for a trade license in Ajman?
You need to submit the following documents to get a trade license in Ajman, UAE:
For Individual
Security clearances (for UAE residents)

Certificate of trade name reservation

Valid passport and ID card copies (for the business partners or owner)

License application
For Business
Security clearances (for residents)

Certificate of trade name reservation 

Passport and a valid ID copies (for all business partners)

License application
Get Your Trade License in Ajman with RIZ & MONA
Getting a trade license in Ajman is quite easy. Any businessman or investor can get the license if they follow the set process in the right way. In case of any confusion, you can always reach out to professional company formation experts in the UAE such as RIZ & MONA. Our experienced consultants will guide you through the process and also handle the process on your behalf. We will give you a detailed breakdown of Ajman free zone trade license cost. Plus, we will make sure you get your trade license with ease. Not only that, but our staff will also give you advice on Ajman trade license renewal to make things easy for you. Contact us now and book your free slot to get going with setting up a business in Ajman.