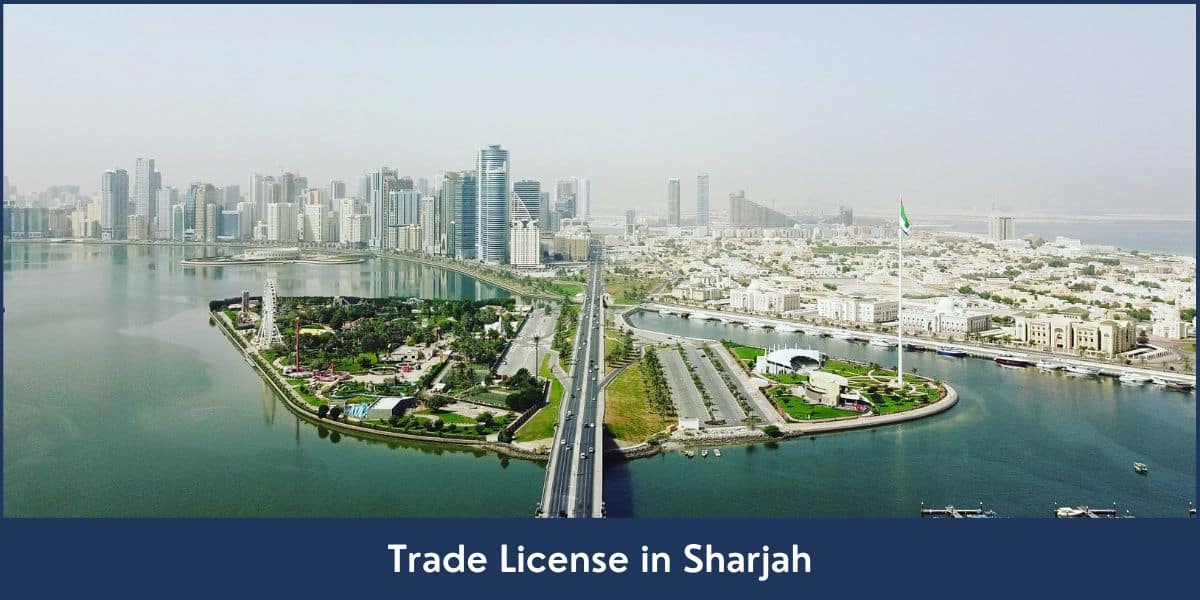 Starting a business in Sharjah is as fruitful as starting one in any other Emirates of the UAE. But to do so, you must have a trade license for Sharjah. There is a certain process to follow along with a set of documents to submit for obtaining the license. This article will cover both of these aspects that will help you in issuing the Sharjah trade license. Continue reading to get the details of the process and required paperwork.
Sharjah Trade License Details
You need to own the Sharjah trade license If you are willing to run a business in this Emirate. A trade license is the first official thing a business owner must do to launch a company in Sharjah. It is prohibited to operate any sort of business activity without a license. The license must also be renewed as necessary in order for the company to keep on conducting commercial operations.
The SEDD or the Sharjah Economic Development Department handles issues involving the renewal, issuing, and other aspects of Sharjah trade licenses. Sharjah trade licenses assist the government in monitoring companies conducting business activities in the Emirate and defending the rights of customers.
Role of Sharjah Department of Economic Development
The Department of Economic Development (DED) is the government body that governs and oversees the licensing procedures of any business, firm, or company established in Sharjah. They seek institutional assistance from the Chamber of Commerce and Industry for the issuance and renewal of the Sharjah trade licenses.
Certain Ministries and other governmental authorities have the responsibility to approve certain economic activities. Some examples of such ministries and their respective business activities are:
The Ministry of Health gives approvals to pharmaceutical and medical companies

The Central Bank of the UAE gives approvals to financial institutions and banks

The Ministry of Finance and Industry approves the business activities of industries

The Ministry of Economy and Commerce gives permission to insurance companies and associated agencies
Types of Trade License in Sharjah
Businessmen and entrepreneurs can issue three main types of trade license in Sharjah which are as follows:
1. Industrial License
The industrial trade license is issued to companies who wish to conduct manufacturing and industrial activities in Sharjah. In addition to general licenses, there are special licenses issued by the authorities on the basis of certain criteria such as:
Business operation permit

Entrepreneurial business license and others
2. Professional License
A professional license in Sharjah is given to artisans, professionals, people giving services, and craftsmen.
3. Commercial License
A commercial trade license is issued to cover various types of business activities in Sharjah.
Required Documents for Sharjah Trade License
Land ownership certificate or map 

Licenses form

Approval from the ministry of economy

Photocopy of certified tenancy contract 

Trade name certificate

Service agent contract approved by the legal affairs section

Signed photocopies of the national ID for UAE nationality holders, passports, and family book

Brand certificate

Government entities approvals

Official technical assessment report

photocopies of residency, passport, or visa for foreigners

Certified no objection certificate

Technical evaluation report

Notary public certified partnership contract
Process to Issue Trade License in Sharjah
Step 1. Identifying a Business Category
The first thing you need to do is to determine a business category for your company. The business must be classified into one of the following three categories:
Industrial

Professional

Commercial
Step 2. Identifying Business Activities
The next step is to identify and assign business activities against a license. You are allowed to assign a maximum of 10 business activities for a single license. You have to choose them from the Sharjah trade license activities list.
Step 3. Choosing Trade Name
Up next, you have to choose a trading name for your company. There is a set of rules that you have to follow when choosing a name.
Step 4. Getting Initial Approval
Then, you need to get initial approval. For that, submit the application to the Sharjah Economic Development Department or SEDD.
Step 5. Registering Trade Name
Registering the chosen trade name is also important. You can register the name once you get approval for it.
Step 6. Leasing Office Space
Post that, find a decent office space for conducting your business operations. Obtain Sharjah Municipality approval and lease the chosen place for your business. The place can either be in a free zone or the mainland of Sharjah.
Step 7. Preparing Documentation
Then, prepare the required documents which are mentioned earlier, and get approval from all relevant authority bodies. 
Step 8. Submitting Documents and Application
Once you have collected all the documents, submit them to the government department to get the Sharjah trade license.
Step 9. Paying the Fees
Get the fee voucher from the department, pay the fees, and clear the charges.
Step 10. Getting License Approval
You need to proceed to the DED's licensing division after completing the initial approval and trade name registration processes. The licensing authority approves the license information and, if necessary, adds to or edits it.
Step 11. Pay the License Fees
After getting the license approval, the department will issue an audit the payment voucher. Once the fee is paid, you will get the trade register certificate and business license.
You can attempt to register your company's trademark in the UAE once the licensing procedure is completed. Many successful businesses in Sharjah look to grow in Dubai as well as in other emirates of the UAE. In such circumstances, you may want to take into account the various company licenses in Dubai. To get those, you can get in touch with business registration experts in UAE such as RIZ & MONA.
How to Start a Partnership Company in Sharjah?
It is possible to start a partnership company in Sharjah. The process to do so is as follows:
Step 1. After completing the process of choosing trade names, inspections, and other legal activities, you need to submit the application for the company.
Step 2. A company official will look into the submitted application. Then you will be either asked to make changes to the current application or add information if needed. If everything looks good, it will be endorsed.
Step 3. Pay the permission and auditing fees.
Step 4. Once everything is done, the registration certificates and licenses are issued.
How to Start a Limited Liability Company (LLC) in Sharjah?
To obtain a license for an LLC or limited liability company, follow these steps:
After completing obligations such as selecting trade names and inspecting everything, etc. the applicant submits the documents.

The application is reviewed by a SEDD employee. An application could either be endorsed or asked to modify or add things to the application based on the requirements. 

For permission and auditing, you must make a payment.

The final step is the issuance of a registration certificate and license.
Trade License Renewal in Sharjah
A trade license in Sharjah can be renewed after its initial year of validity. In Sharjah, it is illegal to run a business without having your trade license renewed. You can change your business address and sponsor if necessary, at the time of renewal of your Sharjah trade license.
Requirements for Renewal of Trade Licence in Sharjah 
Businesses must submit an application for renewal of their trade licenses when their current ones are about to expire in Sharjah. 
You must contact the Inspection Division of the Department of Economic Development if the license has expired for more than three months. Additionally, if the trade license is for a branch of a foreign firm, the application for renewal is given to the Ministry of Economy instead of given to the Sharjah Economic Development Department.
For the renewal of a Sharjah trade license, the following documents are necessary:
Form for license renewal 

NOC letter from the relevant authority

UAE National ID of the ownership or passport photocopies

Family book photocopies of UAE residents

A photocopy of signature verification authenticated by the Notary Public 

Attested lease agreement
Penalties Upon Failure for Renewal of Trade License in Sharjah 
A business may face heavy fines and eventually be blacklisted for failing to renew its trade license in Sharjah. This would result in the stopping of all business operations, the cancellation of any business-issued visas, and possibly the owner's departure from the United Arab Emirates. So, to avoid these penalties and to continue to conduct your business activities legally in Sharjah, timely renew your license once it gets expired.
How To Cancel Trade License In Sharjah?
A crucial phase of the corporate life cycle involves a company closing in Sharjah or attempting to cancel its trading license in the Emirate. And by the cancellation of the trade license in Sharjah, we mean to close the company in Sharjah.
Keep in mind that once a license is closed, it cannot be issued again. You need to get approval from several state and federal agencies and submit paperwork to relevant departments for trade license cancellation. The type of company license you possess is a factor in deciding the documentation to be submitted and other processes.
In Sharjah, there are three situations where the trading license needs to be canceled.
Case 1. Upon Expiration of the License
The first scenario is when a business license has expired and you do not want to renew it. In this situation, the license must be closed. If that is not done, you'll be hit with a lot of financial fines.
Case 2. Committing Serious Offense of the Law
The second case is when a business violates the laws seriously, company liquidation or Sharjah's trade license cancellation becomes necessary. Or a firm may do fraud, in which case Sharjah authorities begin to inspect and hold anyone breaking any national laws accountable. In this situation, they would receive legal notice that their Sharjah trade license has been canceled. Therefore, the business must be shut down.
Case 3. Income is Not Good Enough
The third situation for businesses in which a closure is required is when their expenses are excessive or revenue is low. To put it simply, when there are insufficient finances to run the business. We might also state that they should continue with their everyday responsibilities even if their business is not running smoothly. As a result, they either lack the skills necessary to limit their liabilities or are unable to pay their employees.
FAQs – Frequently Asked Questions
How much does it cost for a trade license in Sharjah?
The Sharjah trade license cost depends on the business type, chosen location, and multiple other factors. To get the exact cost, you should consult experienced business setup consultants like RIZ & MONA.
How can I register my trade name in Sharjah?
There is a process to follow to register your trade name in Sharjah. In short, the steps include collecting and submitting the documents to the relevant authorities and getting initial approval from them. Then approaching the governmental bodies for registering the trade name of your business.
How can I get a trade license in Sharjah?
You can get a trade license in Sharjah by following a simple process. If the process is followed correctly, you can get the Sharjah trade license with ease.
How can I cancel my trade license in Sharjah?
To cancel your trade license in Sharjah, close the company and submit an application to the relevant department.
How can I check the fine for my trade license in Sharjah?
To check the fine for your trade license in Sharjah,
Access the inquiry services to check for fines for your trade license by

clicking here

.

Then, choose the trade license certificate verification service.

Next, enter your correct transaction number.

Once you have entered the number, click on the search icon.

There, you can see the UAE trade license status.
Get Trade License in Sharjah with RIZ & MONA
So, that was all about the Sharjah trade license. The process to get this license is quite simple and any businessman or entrepreneur can get it issued if followed the mentioned steps. We still recommend getting help from well-known business consultants in the UAE like RIZ & MONA to obtain a trade license in Sharjah. We are experienced professionals who can help you with the documentation and handle the process on your behalf. Get in touch with us today to book your free appointment and obtain your general trading license in Sharjah right away.