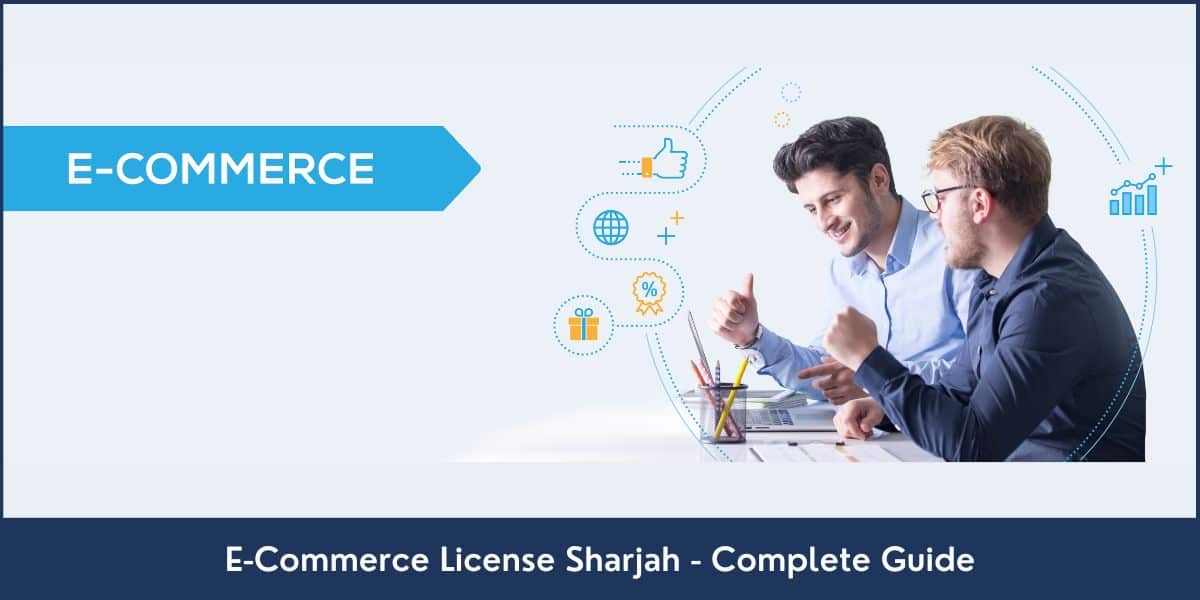 Businessmen and entrepreneurs find Sharjah one of the best places to start their new eCommerce companies. It is due to the countless lucrative benefits of the Emirates. But to open an e-commerce business, they need an e-commerce license, Sharjah. Without a license, it is illegal to start an eCommerce business in the UAE.
There is a process for obtaining the e-commerce license defined by the authorities that everyone has to follow. If you are not aware of this process, you are not alone. But there is nothing to worry about, we bring you this concise guide that will take you through the complete process in a simple yet effective way. Stick around till the end to learn everything related to the e-commerce license in Sharjah including required documents, steps to follow, and more.
Required Documents for Obtaining E-Commerce License in Sharjah
The following documents will also need to be submitted with your application for getting an e-commerce license in Sharjah:
A valid copy of your passport

Memorandum of Association

Copy of visa

National ID copy (if required)

NOC or No objection certificate (if needed)
Process to Obtain E-Commerce License in Sharjah
Follow these steps to get your e-commerce license in Sharjah in a smooth manner:
Step 1. Choose a Structure
The first step is to select the legal business structure that will govern your online company.
Step 2. Register a Trading Name for Your Business
Next up, you will choose up to three names that best describe your company. You must follow specific naming guidelines while selecting a name for your company.
Simply put, you must refrain from using blasphemous language, or vulgar or unpleasant words. When naming your firm after yourself, stay away from acronyms and famous organization names. Additionally, make sure that your desired name is available for registration.
This is why it's helpful to select several prospective company names according to your priorities in case your first choice has already been registered by some other business.
Step 3 and step 4 are for non-Emirates nationals only. If you are an Emirates ID holder, you can skip these steps and move on to the 5th one.
Step 3. Register for an E-channel and Obtain an Immigration Card
This step is for non-Emirates nationality holders. In order to apply for your immigration card, you will need to register for e-channel services. Again, much of this process is conducted online. As soon as you register, you'll be able to access civic services and apply for more visas and Emirates IDs.
Step 4. Process the Visa
This step is also for ex-pats only. After getting your immigration card, you need to submit an application for an entry visa. You can stay in the UAE for up to 60 days with this visa. During this time, you can leave and return, but it is not advised since it may cause issues with immigration.
A medical test is required as part of the visa application process. Chest X-rays, blood tests, and biometric scanning are included in this process. During this stage, you can also apply for your Emirates national ID, which gives you access to a number of services in the UAE.
Step 5. Submit the Required Documents
You must submit your completed application form, along with the required documents and your chosen company or trade name. You must have all the necessary documents, including the MoA (Memorandum of Association), for the application. In most cases, you can receive your trade license within two hours after completing the application process online.
Step 6. Additional Requirements
You must make a decision about hiring employees, office space, and warehouse space. 
Step 7. Pay the Shams fees
Clear the Shams charges and you are good to get your license. The fees vary from person to person and their expertise. The license will be issued once all the procedures are followed correctly and fees are paid.
Benefits of E-Commerce Business in Sharjah
In the e-commerce industry of Sharjah, you can enjoy many of the following benefits without relocating to the UAE:
SHAMS – Media City Free Zone the zone is a hub for a wide range of business activities. It facilitates networking and connecting of individuals like nowhere else. In the Shams free zone, businesses provide services in marketing, trade, import, e-commerce, media, and event management.

The process of getting a business license is effortless and quick

 For entrepreneurs and e-commerce enterprises, access to co-working spaces and affordable company setups is available. Numerous amenities, like printers, WiFi, and other necessities, are also accessible at this location.

Flexible visa packages, allowing employees to share desks and apply for up to six visas each. Families and dependents can also be sponsored in the free zone.

The existence of a sizable market that can support a variety of goods or services

There is a quick incorporation process, a supportive community, and a potentially massive market for e-commerce businesses to produce the most lucrative benefits

Businesses have an ideal chance to grow in the Emirates since it provides low-cost business formation and assistance
Keep These Things in Mind Before Opening an E-commerce Company in Sharjah, UAE
There exist certain factors and things that you should remember before starting your e-commerce business in Sharjah. 
One of the most important things to remember when beginning an online store is that there is competition in the United Arab Emirates and all over the world as well. You'll need a domain name that is easy to remember and create a prominent online presence on social media platforms or other channels.
You must take your niche into account as well. Do you have something to give that no one else does? Or is your product only superior to others in its category? You must make this point crystal clear to your potential audience because it is what makes you unique and different from your competition.
TIn addition to that, think about your website's marketing strategy. A vast market can be reached quickly, easily, and affordably by using social media marketing, which is immensely popular. If you lack web marketing expertise, you should consider outsourcing this task.
Your website is just as crucial as your product. There are many pre-built stores, attractive designs, and payment processing available with distinct e-commerce solutions. However, some are superior to other ones available out there. Check out some of the e-commerce industry giants like Magento, Shopify, etc., or consult your free zone to see if they have any recommendations for platforms.
The design, feel, and user interface of your website are crucial too. You'll need to think about the consumer journey in addition to having compelling images and descriptive landing pages. A seamless basket and checkout procedure can drastically lower abandoned carts and boost sales for your business, letting you make big bucks out of them.
Get Your E-Commerce License in Sharjah With RIZ & MONA
RIZ & MONA CONSULTANCY can help you in getting your e-commerce license in Sharjah with ease. Our experts will assist you throughout the process so that you don't make any mistakes and cause problems for yourself. Not only that, but we will also guide you in opening your company in Sharjah. Contact us right now and get all the required details related to licensing, and company formation in Sharjah in no time.
We are experienced professionals in all company formation-related facilities in Sharjah, Dubai, and the rest of the UAE. Thanks to our extensive local expertise and international experience in business setup, it is quick, simple, reasonable, and effortless to set up your e-commerce business with us. Since we are aware that every company is special, we will customize our business setup packages to meet your needs to provide you with all you require to be successful.