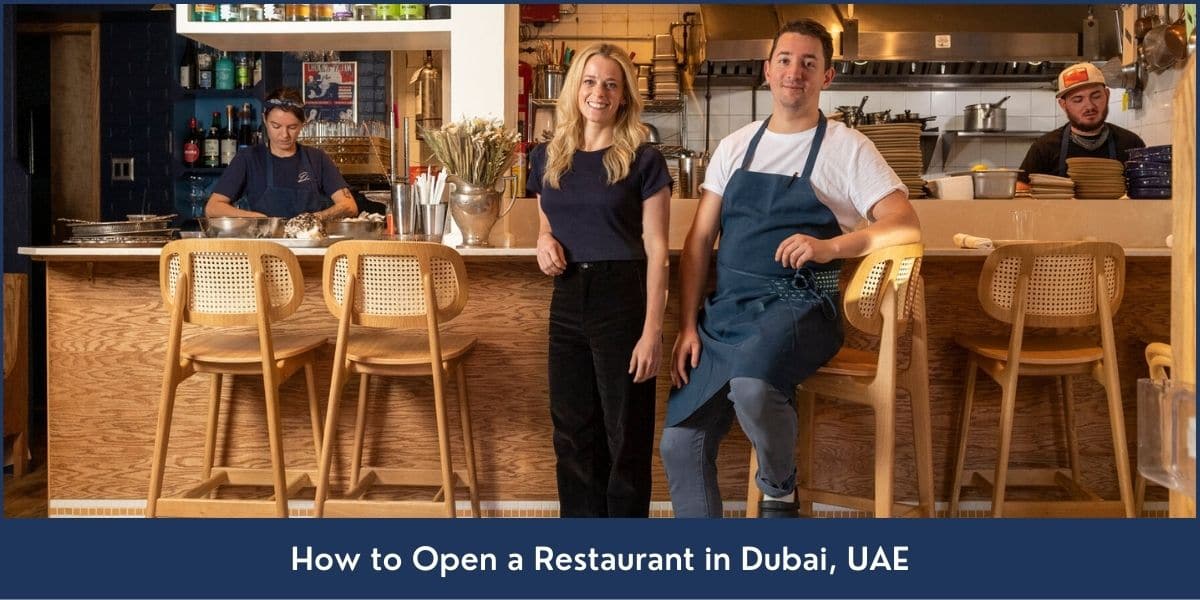 People from different parts of the world prefer to choose Dubai over any other place as their most liked destination to tour. Thanks to remarkable infrastructure and tourism-friendly policies, it is included in the list of 10 best tourism destinations. This is the reason why there has been unbelievable growth in the restaurant and food sector of the UAE. So, a restaurant business setup in Dubai is the most lucrative available option for you. In order to open your restaurant, you would require a restaurant license in Dubai. This guide will teach you how you can get that. So, let us dive in.
Types of Restaurant License in Dubai, UAE
Before getting a license, you should learn about the licenses which are available. You can get one of the following restaurant licenses in Dubai:
Floating Restaurant License
If you want to set up a coffee shop or restaurant for tourism activities, you should get a floating restaurant license. As the name suggests, the license is for onboard dining set up on yachts, ships, and boats. You are legally allowed to serve beverages and food to tourists while they are on an entertainment trip or the yacht which is anchored.
Restaurant and Coffee Shops License
For those who are looking to open a big coffee shop or restaurant at a place in Dubai, the government should issue a restaurant and coffee shop license for their business. Under this license, you are allowed to start a restaurant that features an awesome kitchen set up and seating place installed for cooking and serving food respectively. You have both the options of indoor and outdoor sitting. You can also serve any liquid refreshments or beverages to your customers to quickly refresh them.
Mini Store and Restaurant License
Under this commercial license, you can legally run your mini restaurant or coffee shop. It allows restaurants to cook and serve food along with snacks in the indoor sitting area. The license is not limited to preparing and serving food only, having this license gives you the freedom of selling consumer goods including newspapers, fresh canned & preserved foodstuff, bakery items, beverages, dairy products, and much more.
Step by Step Process to Obtain a Restaurant License in Dubai, UAE
If you are an entrepreneur and are not capitalizing on the rapidly booming food sector, you are missing out on huge profits. So, follow these steps, get your license, and establish your luxurious restaurant right away to make big bucks.
Step 1: Selection of Jurisdiction
First of all, you are going to choose an economic zone in Dubai. It can be either a free zone or the mainland of Dubai. You will reach out to the independent authority for a specific free zone or the Department of Economic Development if you have opted for the Dubai mainland. You may seek the guidance of business setup experts in order to get help regarding a suitable selection of jurisdiction. 
Step 2: Creating a Business Plan
Now that you have chosen the jurisdiction, let's move on to the next step, creating a business plan. While drafting a business plan, keep the vision for the business, its contingency plans, financial viability, and brand management into consideration. Once the business plan is ready, you can submit it to the relevant authorities.
Step 3. Getting Trade License
Next up, you will apply for getting a business license and some permits to run the company. You need to get a food license in Dubai issued from the Food Safety Department and a trade license from the Department of Tourism or Commerce, Department of Economic Zone, or free zone authority. You may also be needing a cafeteria license in Dubai if you plan on opening a cafeteria in the UAE. 
Step 4. Complying with Food Code
There are some rules and regulations that you must stick with when operating a restaurant business setup in Dubai. One of the issued rules is that you have to comply with the food code of Dubai issued by the government. 
The food code is an honest effort by the government of Dubai which ensures that they are providing an excellent food safety system for the millions of people and residents of the UAE. This detailed document points out the needs which you must fulfill when running a restaurant.
Step 5. Estimating Expenditure and Cost
You should prepare a firm financial plan before you move on to opening your restaurant. This crucial factor cannot be ignored and should be given the required importance. It will help you in keeping a track of your money being spent on various business activities. You must know the cost of a specific type of restaurant, the amount you need to spend on pieces of equipment & staffing, and the cost of acquiring the license.
Estimate the capital needed for the initial investment, expenditure, and running requirements of the restaurant. You can do that by doing costing for your business. It may be a daunting task but it is an important step and cannot be skipped by any chance.
You can get an estimated restaurant license cost, cafeteria license cost, and food license cost in Dubai, UAE by reaching out to professional business consultants such as Riz and Mona. In general, the cost of food license, cafeteria license, and restaurant license in Dubai keep on changing from time to time. So, it is hard to give an exact amount.
Step 6: Invest in Right Technology
The hospitality industry has also equipped itself with the latest technology. Daunting processes such as cooking, maintaining food, billing products, and services, and more can be made super easy with the help of advanced equipment. So, that's why you should invest a feasible amount to get your hands on the suitable technology that meets your business requirements.
Step 7: Hire Qualified Staff
A business cannot be successful without the inclusion of highly professional and qualified staff. They not only represent the company but also play a crucial role in making the business profitable. Properly organized staff is key to accelerating your business at a lightning-fast speed. Untrained or inexperienced employees might not meet up to the expectations of the company.
Food Truck License in Dubai
The new generation of Dubai is loving the concept of food trucks. If you also want to run a food truck besides your restaurant in Dubai, you need to get a license for operating it. You can obtain the license from the Department of Economic Development (DED) under some specific guidelines. 
Before starting your food truck business in Dubai, you will need a few pre-approvals from Dubai Municipality, Road Transport Authority (RTA), and Dubai Electricity and Water Authority (DEWA).
Pre-Approval for Food Truck License
Make your brand credible and trustworthy by getting HACCP approval. Getting this approval will assure the safety of the central kitchen and food truck.
Before you get your food truck license, you need to submit the HACCP certificates to the government authority.
The first step is to submit your detailed business plan to the Dubai Municipality and DED. You can proceed to the next step of getting all other approvals as soon as both authorities approve your plan.
Rules & Regulations for Food Truck
You need to store food preparation containers and equipment carefully in the truck. In case of food contamination, you will face sanctions from the relevant authorities.

Only ready-to-eat meals ( French Fries, Burgers, Sausages), fried foods, and barbeques are permitted on the Food Truck.

You'll need to set up a separate kitchen for food storage, packaging, and preparation. The mobile truck cannot be used to prepare raw materials.

The truck's cooking area must meet safety requirements and meet all the appropriate safety standards for the approved legal activities.

Food safety rules in Dubai are extremely strict, thus the food truck must serve food with extreme caution to ensure the safety of its customers and maintain hygienic conditions.

The interiors must be easy to clean up, fire-proof, smooth material, and light-colored.

The Food truck must be equipped with suitable lighting and ventilation.
Start Restaurant Business With Riz and Mona
For realizing your dream of a restaurant business in Dubai, you must seriously consider all these above-mentioned steps. Setting up a new restaurant business is easy if you have clarity in all the steps and procedures. So to carry out tasks in a smooth way and in a timely manner, you need to join hands with professional business setup consultants like Riz and Mona who are well versed with the business corporation procedures as well as the legal laws.
All of the steps listed above must be thoroughly considered and taken if you want to realize your ambition of opening a restaurant in Dubai. It's simple to establish a new restaurant business if you understand all of the requirements and procedures. To complete chores smoothly on schedule, you should work with competent business consultants such as Riz and Mona business setup consultants, who are well-versed in business industry legal legislation and procedures.
Riz and Mona can assist you in obtaining a restaurant license in Dubai (and a cafeteria license in Dubai) to launch a profitable food business. Our team is highly experienced in legal and business procedures. As a business consultant in Dubai, we take the time to learn about your business and tailor solutions to meet your needs.
Contact us now to obtain a restaurant license in Dubai, UAE, and smoothly set up your dream business in no time.