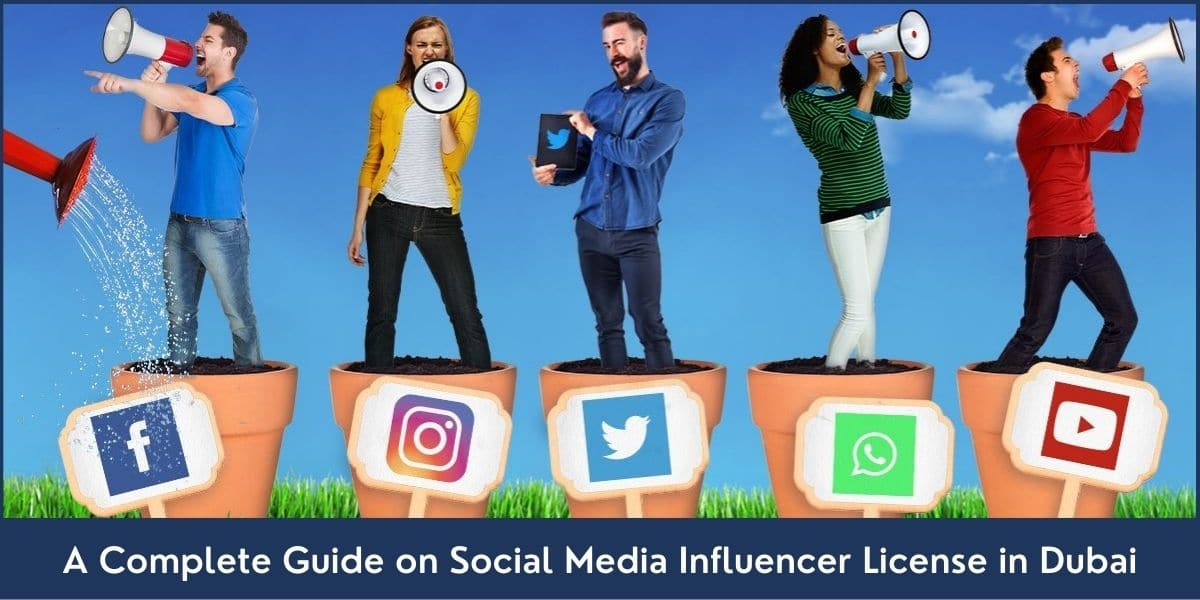 Social media has been around us now for almost two decades. Instagram, Facebook, TikTok, and other apps have grown into social media staples across the globe. Many smart and talented individuals found it an opportunity of their lifetime to capitalize on their talents and showcase their creativity to become a must-click. These people are referred to a term known as "social media influencers".
But before you can outright brands or become overnight celebs, you should get a social media influencer license in Dubai. Don't know how to get it? Fret not, this guide can help. Read on to enrich yourself with information related to acquiring an influencer license and begin your journey to make a career in social media.
How to Obtain Influencer License in Dubai, UAE
Before applying for an influencer license in Dubai, UAE, make sure you have a valid Emirates ID and UAE residency visa. UAE residents don't require to have a UAE residency visa. If you fulfill these two requirements, you are good to go. First of all, if you are a group of influencers, you will apply for a trade license and register your company. This is done by visiting any free zones of UAE or Dubai Department of Economic Development (DED). You can contact any well-reputed business consultants in UAE such as Riz & Mona consultancy to get your trading license. We also recommend going for the free zone in UAE to set up your company due to its uncountable benefits. Then, you can apply for the social media license of the National Media Council (NMC). Those who own a freelance license can apply for an influencer license without getting a trade license. 
Social media influencers can opt for "individual licenses" who want to stay independent and work on their own. You will still need a trade license though.
Another available option for influencers is to get in touch with an NMC certified influencer agency. Simply sign up with them and they will handle the rest including bearing the license charges. Once you are registered with an agency, you can officially work as an e-media influencer in Dubai. All the paid deals that you will make will go through the company. You can only make a contract with one agency at a time.
Dealing with agencies also come with other advantages such as getting support in social media verification, brand management, content production, and more. They also take an active role in valuing quality content and influencers over quantity and providing bespoke support. You also don't need a trade license when working with an agency.
Points to Remember Before Making Deal with An Agency
Working with an agency looks promising due to its affordability and ease of work, but it does come at a cost. Some agencies might not allow you to fully display your creativity and talent due to certain terms and conditions. You will be allowed to publish content that they approve. Or they might limit you to work on only some specific type of content. So, make sure to do your research about the agency before signing up with it.
Requirements for Applying on NMC for License
You can visit the official website of NMC to apply for the influence license in UAE. The whole process of submitting an application takes no less than 15 minutes. But before you can submit your application, you should have the following documents:
Copy of valid Emirates ID

Copy of trade license

Registered title deed or tenancy contract
You are also required to meet the following eligibility criteria:
Must be a GCC or UAE resident

Above 25 years of age

Not a member of NMC

Has good reputation
Who Should Get an Influencer License in Dubai?
Those who use social media as a source of their income should get an influencer license. Doing promotional work, whether you make money from it or not, you are required to acquire the license in order to legally conduct business in UAE. The work can be in the form of promotions and advertisements on their social media accounts or pages 
If you are a well-known personality on social media and have a great fan following, many brands may approach you with their PR packages to promote themselves. You will be glad to know that you don't have the requirement of obtaining an influencer license. Some digital creators are paid (such as paid collaborations with companies) to promote or cover a brand or company. It is mandatory for such influencers to get this license.
Non-UAE Digital influencers who are coming to the Emirates from abroad first need to make a contract with an influencer agency registered by NMC before legally working in the UAE. The same goes for brands and companies as well.
Bloggers, Vloggers, and other digital content creators are required to get an influencer license while making earning via social media platforms.
Penalty for Not Having Influencer License in UAE
If you don't have an influencer license and are working as a social media influencer, authorities may impose hefty fines on you. You may be demanded to pay a fine of up to 5,000 AED as a penalty for not having a license.
UAE Social Media Law
Some content might be illegal in the Emirates because of the cultural sensitivities of the UAE. That content might be perfectly fine in other countries but is not acceptable in the UAE. If anything negatively affects good conduct and public morals, such actions are considered crimes according to Al Tamimi & Co. UAE Cyber Crimes Law. These actions include making and sharing controversial posts related to trending topics, politics, world leaders, religion, and more. Furthermore, you cannot advertise or promote alcohol and related products. Content creators should also be extremely mindful of posting sponsored posts that show a glass of "grape" as it may appear that alcoholic products are being advertised through the shared content.
Get Trade and Other Licenses With Riz and Mona
Need further help regarding an influencer license? Riz and Mona can help you in providing more information related to the process of submitting the application and getting the license. You can also contact us for acquiring a trade license and other business licenses to legally run your company in the UAE.