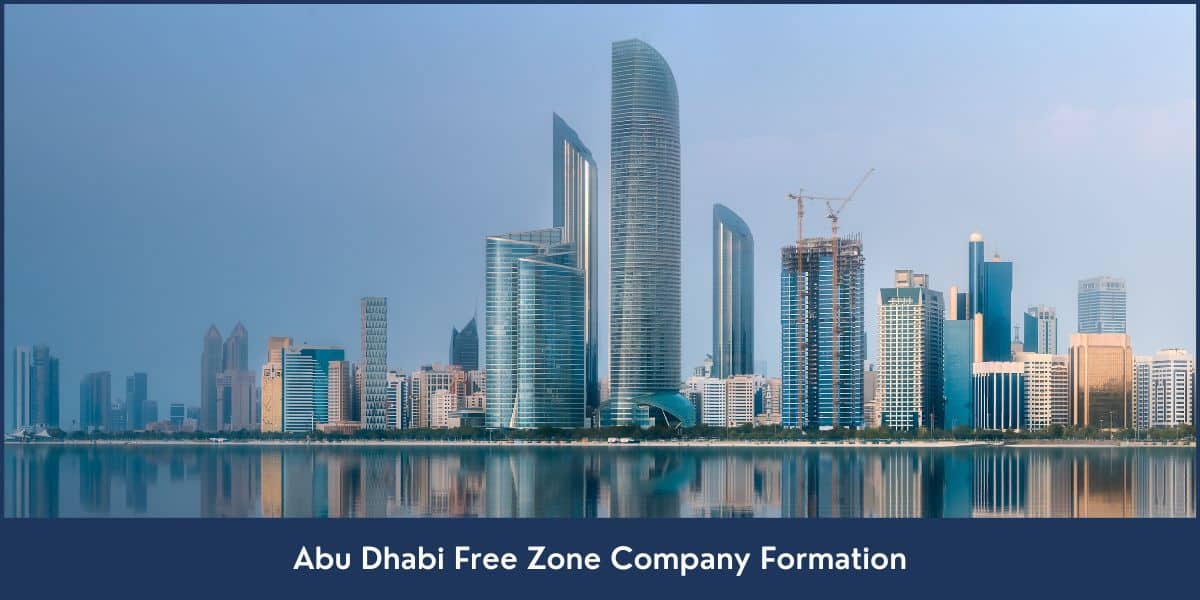 Known to be the largest emirate in the United Arab Emirates and happens to be the federal capital of UAE, Abu Dhabi occupies more than 80% of the total land of the country. Being the largest in the country, Abu Dhabi has a fair share of free zones in the region, offering a favorable environment for business incorporation in the federal capital for foreign investors and entrepreneurs alike to bring the full potential for the growth of the country. Businesses that could be set up in the free zones of Abu Dhabi consist of logistics companies, primarily media and light companies to medium and heavy companies. The shareholders in Abu Dhabi Free Zone companies take full advantage of a lot of facilities and incentives provided, which attracts most of the investment.
List of Abu Dhabi Free Zones
The core objective of establishing free zones in most the parts of UAE was to boost the economy, drive growth and promote foreign investment. The Free Zone Authorities act as the government bodies that register companies and issue business licenses to all the companies that are considered a non-resident in the free zones of UAE. In total, Abu Dhabi incorporates 8 free zones right now:
Types Of Entities In the Abu Dhabi Free Zone
Any individual or corporate entity can establish a venture in any of Abu Dhabi Free Zones in any way from the following down below:
Free Zone Limited Liability
An independent legal entity is known as a limited liability company (LLC), which can be established with an individual shareholder, corporate shareholders, or can be a combination of both. The minimum capital that is required to start up a company depends on the type of company one chooses to establish.
Branch Of A Foreign Company
Other than a licensed foreign company established in an Abu Dhabi Free Zone, a branch of a foreign company can also be set up in an Abu Dhabi Free Zone with a license secured from the Ministry of Economy and Commerce.
Branch Of A UAE Company
Any company that is registered in the UAE can also set up a branch in Abu Dhabi Free Zones, Mainland or Offshore.
Freelance License
People who wish to start off as freelancers are granted a freelance permit, which registers an individual as a sole practitioner and grants full permission to conduct business under their birth name other than a brand name.
Starting a Business in Abu Dhabi Free Zone
Business setup in Abu Dhabi Free Zones is a relatively easier task, as the paperwork is very minimum done in the least duration. Steps to the business establishment are stated down below:
Choose a legal entity type
Determine a trade name
Apply for a business license
Occupy an office space
Secure pre-approvals, get the business registered, and obtain a license
1. Determine a type of legal entity
The first step to setting up a free zone company is determining the type of legal entity one wishes to set up. There are 5 types of companies that can be established in a free zone, which are as follows:
Free Zone Limited Liability Company
Branch of a foreign company or a UAE company
Freelance business
Free Zone Establishment
The difference between a free zone limited liability company and a free zone establishment is the number of shareholders a company can hold and whether the shareholder is a legal person or a natural person. All the Free zones in Abu Dhabi do not necessarily register both of these companies. In order to register one of these types of companies, it is advised to check with the free zone authority beforehand if the desired company can be registered in the free zone. For that, go back to the list of free zones in Abu Dhabi and their respective authorities. Abu Dhabi Free Zones also feature branch establishment of both an international business and a local business.
Capital requirements
The minimum capital requirement in twofour54 is nothing.
A limited liability company in KIZAD can be formed with a minimum paid-up capital of AED 150,000.
In Abu Dhabi Airport Free Zone, the capital requirement is of AED 5,000 or AED 7,500 for a registration fee, license fee ranging from AED 15,000 to AED 50,000.
In Abu Dhabi Global Market Free Zone (ADGM), the required allotted share capital is AED 183,647  for a private company.
A limited liability company in ZonesCorp requires a minimum capital of AED 250,000.
2. Choose a trade name
After the legal entity type is decided upon, further comes the requirement of choosing a legal trade name for the company. In some cases, the free zone authority or the Department of Economic Development (DED) should be checked first to see if the desired trade name is permitted and available in the region. For example, according to the website of twofour54, a name consisting of 'Abu Dhabi' or 'United Arab Emirates' can be permitted for a branch or a free zone limited liability company.
Usually, the Department of Economic Development only allows a trade name to be used if:
Does not violate the morals or public order of the country
Must be followed by the legal form of the company, such as FZE, LLC, DMCC, etc
The trade name is not already registered with another company
It is compatible with the legal status and the required type of activity
It should not consist of names of any governing authority, religion, or logos or names of any external bodies
3. Apply for a business license
The type of business license issued to a company depends on the chosen primary business activity of the company.
Type of Business Activities
The types of business activities allowed in Abu Dhabi Free Zones are as follows:
Content production
Advertising
Animation
Corporate film production
Corporate print material
Educational content material
Digital content production
Gaming development
Film production
Graphic design
Illustration
Mobile media
Music videos
Music production and recording
Performing arts and theater
Online electronic content production
Photography, video
Print content production
Radio content production
Software development
Scriptwriting
TV production
Songwriting and composing
Web design and development
Branding agency
Events or festivals
Exhibitions or conferences
Information services
Media content management
Marketing communications
Publish a newspaper
Post-production
Professional association
Training
Rights management
Book publishing
Publish a magazine
Broadcast a satellite/ terrestrial television channel
Broadcast a satellite/ terrestrial radio channel
In the case of publishing and broadcasting business activities, a dissemination license will be required to apply.
Business activities allowed in Abu Dhabi airport free zone are MRO, marketing events, aviation, aerospace, airport services, aircraft interiors, logistics, transportation, warehousing, distribution, storage, technology and ICT, manufacturing, trading, service provider, consultancy, knowledge and development, regional HQ.
KIZAD port boats a wide portfolio of investment sectors including engineered metals, aluminum, automotive, port logistics, food processing, pharmaceuticals, packaging, and polymer converting.
Types of Business Licenses
According to the chosen business activities, the types of business licenses issued are as follows:
Commercial or trade license
Consultancy or services license
Industrial license
Media license
Educational license
E-commerce license
Freelancer license
Offshore license
Warehousing license
Manufacturing license
4. Choose an office space
Office space in an Abu Dhabi Free Zone can either be bought or leased. The requirement for office space depends on the number of employees in a company and the chosen business activity of the business. Licenses in Abu Dhabi Free Zones or any other part of the UAE are issued depending on the occupied office space, more than one license can be acquired in case of having a considerably large office space. The step of choosing an office space is a crucial one, as a lot of things depend on the physical appearance of the business, which is represented by professional office space. Carefully select an office space that best suits the needs of the business as well as the type of business activities and the number of employees. For freelancers, Flexi-desk packages, are designed in a way that accommodates the freelancers with all the necessary facilities.
5. Obtain pre-approvals
Abu Dhabi Free Zone registered companies are governed on the basis of the rules and regulations of the respective free zone authority. In order to register a company in an Abu Dhabi Free Zone, it is required to obtain pre-approval and in order to obtain those pre-approvals, it is required to apply by submitting the required documents. The list of required documents depends on the chosen business activity of the company, the type of legal entity determined, and the requirements of the respective free zone authority. Down below, general guidance on the steps and documents needed to obtain approvals are stated:
Initial Approval
The first step is to obtain initial approval. For getting the initial approval, the following documents are required:
Completed application form
Business plan
Copy of existing trade license or a registration certificate (in case the company already exists, it is applicable to local companies only)
Colored passport copies of the company's shareholders, the appointed manager, and the director of the new company
Specimen signature of the company's shareholders, managers, and the director of the new company
2 year's audited financial reports for a corporate entity or certificate of reference from the personal bank of the individual shareholder
NOC from the current sponsor
Letter of intent
Unit title deed
Registry Identification Code Form (RIC) (Original and Notarized)
In the case of freelancers, the documents needed are lesser than usual. Usually, the documents they need to submit are as follows:
Application for registration
CV
Bank reference letter
Registry Identification Code Form (RIC) (Original and Notarized)
Registration
The next step to setting up a business in Abu Dhabi Free Zones is to register the company. Once the initial approval is secured, progress towards company registration and paying the license fees to obtain a license. The fees required to obtain a license depend on the type of license needed. The documents required for company registration are as follows:
Completed registration application
Board resolution appointing the Manager or the Director of the new company (Notarised and attested)
Power of Attorney given to the manager or the director of the new company
Memorandum and Articles of Asociation (Notarized and Attested)
Specimen signature of the manager or the director of the new company
Passport size photo of the  new company's manager or director against a white background
Information on the share capital
Licensing and Visa Process
The agreements of leasing will be prepared by the authority of the relevant free zone
The next step would be the issuance of a trade license
Finally, the visa process will begin
Required Documents For Company Formation
Complete the company registration form
Passport copies of the shareholders
Passport-size photographs with white background
2-3 suggested names of the company
Specifications of the business activity
Number of visas required
2x proof of address (dated within 3 months)
Bank or professional reference letter
Curriculum Vitae (summary of professional history) for freelance license
In some of the free zones in Abu Dhabi, it is required to provide a copy of a proper business plan as well.
Advantages of the Abu Dhabi Free Zone
Abu Dhabi Free Zones, or any for that matter, offers a number of facilities and incentives for investors looking to set up a business. Other than that, the facility of a flexible business setting is also available in any free zone in Abu Dhabi, which makes business establishments in free zones a lot cheaper compared to others. The price of setting up a business, however, varies from free zone to free zone. Other than these, the advantages of setting up a business in any Abu Dhabi Free Zone are countless, such as:
100% foreign ownership
Full repatriation of profits and capital
Exemption from taxes on personal and corporate income
Exemption from import and exports customs duty for goods and services
Pre-built advanced infrastructure
Business cluster environment where companies falling under similar industries share a work campus.
A business-friendly environment with the simplified process of company establishment
Business-friendly company laws and legal framework
Fast process of immigration and quick access to skilled professionals
A one-window operation for a wide range of government services like visa formalities, residential permits, licensing, etc.
The global trend of trade liberalization has enabled free zones in Abu Dhabi to take full advantage of different and opportunities and challenges, along with providing support every step of the way to Abu Dhabi free zone registered companies. Registering a company in an Abu Dhabi free zone requires a proper plan dealing with all the factors such as a suited infrastructure according to the needs of the business and all the legal formalities are dealt with properly. A business owner or an appointed manager, director, or a shareholder of the new company should be well aware of all the requirements of licensing and registration, all the legal procedures, funding requirements, and the type of ownership allowed in the free zone and must have all the required documents and required minimum capital in place and deposited in the bank selected by the free zone authority.
Dual License For All Abu Dhabi Free Zone Companies
The Department of Economic Development (DED) in Abu Dhabi launched the first phase of its Dual License initiative on 4th December 2018, in which they announced that Abu Dhabi Free Zone registered companies will be allowed to conduct business activities in both the Abu Dhabi Free zones as well as incorporate a branch in Abu Dhabi offshore. The introduction of Dual License in the emirate will promote more business operating in the region which in turn boosts the economy and improve competitiveness in the emirate. The aim of launching the dual license initiative in Abu Dhabi was to drive forward the economy and attract foreign investment in the region, announcing dual license in Abu Dhabi Free Zones was a part of the Dhs 50bn stimulus package – which was announced back in June of the year 2018.
The launch of dual licenses was applauded by many in Abu Dhabi as it brought advantages to a lot of industry sectors including trading, services, financial consultancies, and FMCG. At first, the dual license was made available only to those countries which were registered in one of the Abu Dhabi Free Zone, which includes Abu Dhabi Global Markets, media zone twofour54, KIZAD, Abu Dhabi Airport Free Zone, and MASDAR. Dual license companies could operate in the regions of Abu Dhabi, Al Ain, and Dhafra. A second phase of the dual license initiative was planned to be launched, which permitted more businesses in the emirate to be eligible for getting the dual license.
Company Formation in Abu Dhabi Free Zones with RIZ & MONA
We are specialized in all types of company formation in Abu Dhabi and across the UAE
Deliver ideas on identifying the suitable free zone area
Name approvals and other governmental approvals
Prepare all incorporation documents
Assistance in Bank account opening and much more
For a free consultation, Contact us today!