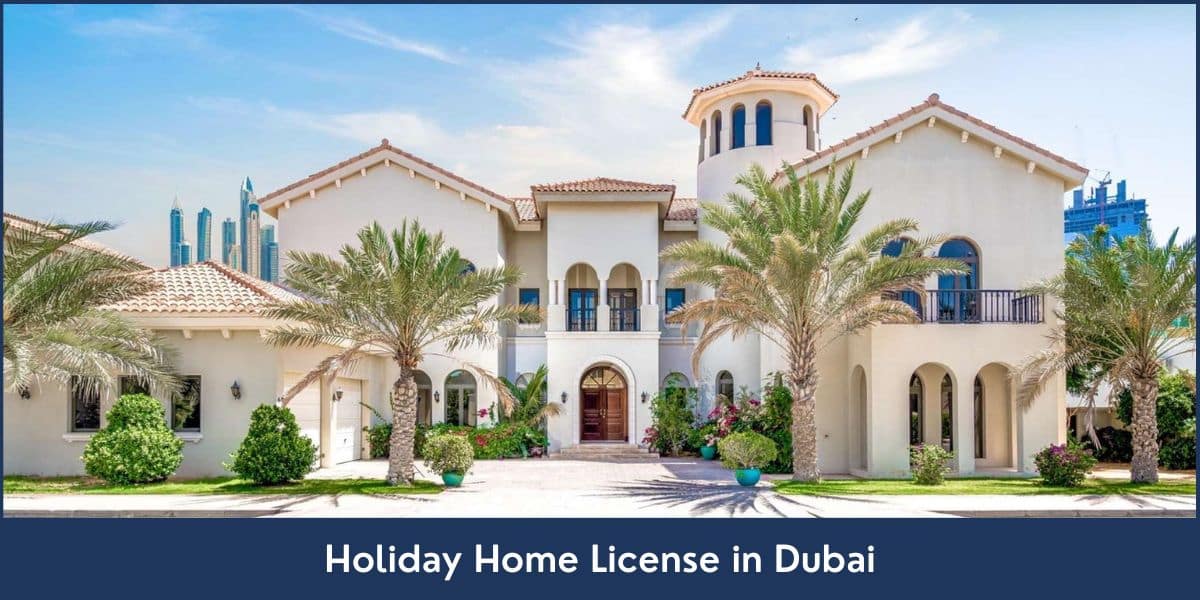 Dubai is one of the most attractive places for tourists to visit. Every year, people from across the globe land on this territory to have a good time around. They tend to look for places to reside during their tour. Although there are luxurious hotels available for staying with family. But not everyone can afford to spend huge sums of money on their stay as the rent of these hotels is quite high. So they tend to look for cheaper options like apartments and homes available for rent.
If you own similar property in Dubai, you can rent it out for a short term to fulfill this purpose. It is a good business opportunity because doing so will make you earn a good profit. But to rent out your property, you need to own a holiday home license in Dubai. This guide covers the process in detail along with steps to follow on how to start a holiday home business in Dubai to make things easy for you to issue it.
Requirements for Opening a Holiday Home in Dubai, UAE
The following are the key factors you need to understand before taking any step:
DED and DTCM are the central licensing departments.

For the duration of the license term, licensees will require insurance according to the specifications of the DTCM.

Hotel apartments and holiday houses will be registered, monitored, and inspected by the DTCM to ensure they adhere to the rules.

Services outside of the unit and available in the same building as the holiday home are not permitted to the license holder by the government. The scope of the license holder is limited to renting out the unit alone and providing a phone connection for visitors to utilize in an emergency situation. 

Holiday home apartments cannot be rented in segments or as individual bedrooms. They can only be booked in full.

For tourism and hotel establishments, licensees must participate in the electronic guest registration program.

Each family must be registered with DTCM as a holiday home. Plus, the license holder can rent out properties in various parts of Dubai.

It is necessary to get the unit owner's NOC stating that he/she has no objections to the licensee subleasing the unit.

The license holder needs to be knowledgeable about the hospitality industry.

DTCM will require licensed properties to display an official certificate of registration.

Guests will be charged AED 15 for a deluxe holiday home for one night. They will also be charged AED 10 for Dubai tourism dirham fees along with 10% municipality tax for a standard holiday home. 

It will be necessary to manage licensed properties continuously and adequately.

Customers should not be charged extra for electricity and water.

Data and statistics about guests must be provided to the DTCM by the license holder.
Required Documents for Holiday Home License in Dubai
The documents that you need to submit are as follows:
Floorplan and details of your property

Filled application form

A No Objection Certificate from your employer, if required

Two color passport-size photos

A copy of the passport of the proposed shareholders

Approvals from the Dubai Department of Tourism and Commerce Marketing (DTCM)
Process to Issue a Holiday Home License in Dubai, UAE
Regulations regarding holiday home operations in Dubai are changed now: homeowners can list their properties as short-term holiday homes with the Dubai Economy and Tourism Department (DETD), and the Department of Tourism and Commerce Marketing (DTCM) of Dubai.
A vacation home rental license in Dubai can be obtained by following the steps mentioned ahead:
Step 1. Choose Your Business Activities
The first step in applying for a holiday home license in Dubai is to list all of the business activities on the application forms of the license. All officially permitted business activities in Dubai are included in the lists of the DETD. In Dubai, a list of operations is not as extensive for short-term rentals of holiday homes and other properties as it would be for a commercial trade license. Nevertheless, the applicant must mention your business activities.
If you conduct commercial operations that are not specified in your application or listed on the list of your mentioned business activities, you may be subject to penalties. In order to make sure that your holiday home license application and business operations match with one another, it is best to work with professional business setup consultants like RIZ & MONA.
Step 2. Select a Company Name
The next step is to select a name for your company and register it with the Registry Office of the UAE. There are certain rules set by the UAE government to follow when choosing a name. For example, no blasphemous or offensive language or references to Islam or Allah are permitted. Then, the name of the business can include your name, but it cannot be only your initial or last name, it must be fully used. 
Step 3: Submit Documents
Post that, you need to submit the required documents, which we have mentioned earlier, to the relative authority bodies.
You can apply for your visa and open a corporate bank account after receiving your holiday home license in Dubai. Depending on your holiday home license, your visa can allow you to sponsor the visas of your employees and family members.
Pros and Cons of Getting a Holiday Home License in Dubai, UAE
Renting a holiday home in Dubai has so many advantages. In Dubai, the hospitality sector is booming, welcoming 20 million visitors annually. The number of tourists is increasing every year who will look for a place to stay. For 2022 and beyond, events like the Dubai Expo 2020 are expected to attract 5 million more visitors. The market size is huge and ever-growing for the UAE.
Property owners can now enter the vacation rental industry and make money way more easily thanks to the simplified laws governing permits and licenses. In comparison to long-term rentals in Dubai, short-term rentals lead to an average 25–30% premium for ROI (Return on Investment). This implies that demands and bookings of vacation rentals in Dubai will rise in the future.
Disadvantages
Tenants are not always easy to vet, and some have been less than stellar.

If your revenue is reliant on bookings, you could be left financially stranded during bad economic conditions. 

Renting a vacation home can be expensive. Seasonal maintenance must be considered before opting for it.

It is possible for rules and regulations to change at any time of the year.
Allowed Business Activities Under Tourism License in Dubai
The business activities of the company set by the DTCM or the DED under a tourism license are:
Vacation Home Rentals
License Type: Tourism
Activity Code: 551010
Activity Group: Time Sharing
Activity Details
Rented or owned furnished accommodation for a rental is provided to tourists on a daily, weekly, monthly, or yearly basis is included in this activity. It needs to rent the entire facility instead of individual beds or rooms of the property.
Regulations for Dubai Holiday Home Rental
Owners who want to rent out their homes as holiday rentals in Dubai must submit an application to the DETD and DTCM for a holiday home license. These authorizations must be renewed after every year.
According to Dubai's holiday house regulations, a permit is necessary for a building to be authorized for holiday home rental. Similarly, licenses are given to property owners.
Every property owner who has a holiday home is required to get insurance for it. Most homeowners get the services of holiday home operator service providers to take care of their property's bookings, upkeep, and promotion. To safeguard the homeowner's investment, these operators must contract with visitors and include a security deposit in the total cost.
Owners of vacation homes cannot discontinue renting their properties either temporarily or permanently while their license is in effect unless they first receive DTCM clearance.
Every holiday home must have the following things:
Bedding

A fire extinguisher

Linens

First aid kit

Escape route

Beds

Prayer mat

A safe

Completely impermeable curtains

A phone
Before approving permits, the DETD inspectors check these items on the property.
Holiday Home Management Companies
Properties in Dubai are often managed by Property Management Companies. However, holiday home management companies with short-term rentals have more effective marketing and a wider audience to present your holiday home in Dubai, UAE.
UAE is widely popular in the market for adopting the newest measures and trends to keep the Emirates competitive with top countries by being original and creative. According to multiple studies, holiday homes are quickly evolving into a rapidly moving and crucial concept that will help Dubai attract more tourists and boost its tourism industry.
Frequently Asked Questions – FAQs
What documents are required to get a holiday home license in Dubai?
In order to get the holiday home license in Dubai, you need to submit the following documents to the relative department:
Two color passport-size photographs

Filled application form

Details of your property.

A passport copy of the proposed company owner
How much is the cost of a holiday home license in Dubai?
The cost of the holiday home license in Dubai depends on the proposed case. We recommend contacting any business consultancy like RIZ & MONA to get an idea of the license cost.
What is a DTCM license?
A DTCM license is an event permit that you need to get from DTCM or Dubai Tourism and Commerce Marketing. As per the Dubai government, ticketed or non-ticketed events require a DTCM permit in the following categories:
Entertainment

Sports

Culture

Fashion

Business

Art
Get Your Holiday Home License in Dubai
Getting a holiday home license in Dubai is way easier than it sounds. Still, we recommend partnering with experienced business setup experts in Dubai such as RIZ & MONA. The various governmental and municipal regulations will be explained to you and managed by us throughout the entire application process.
We will help you out to make sure that the process of issuing the license is hassle-free. The services we offer range from business incorporation to office space. Get in touch with us today to learn more about it.