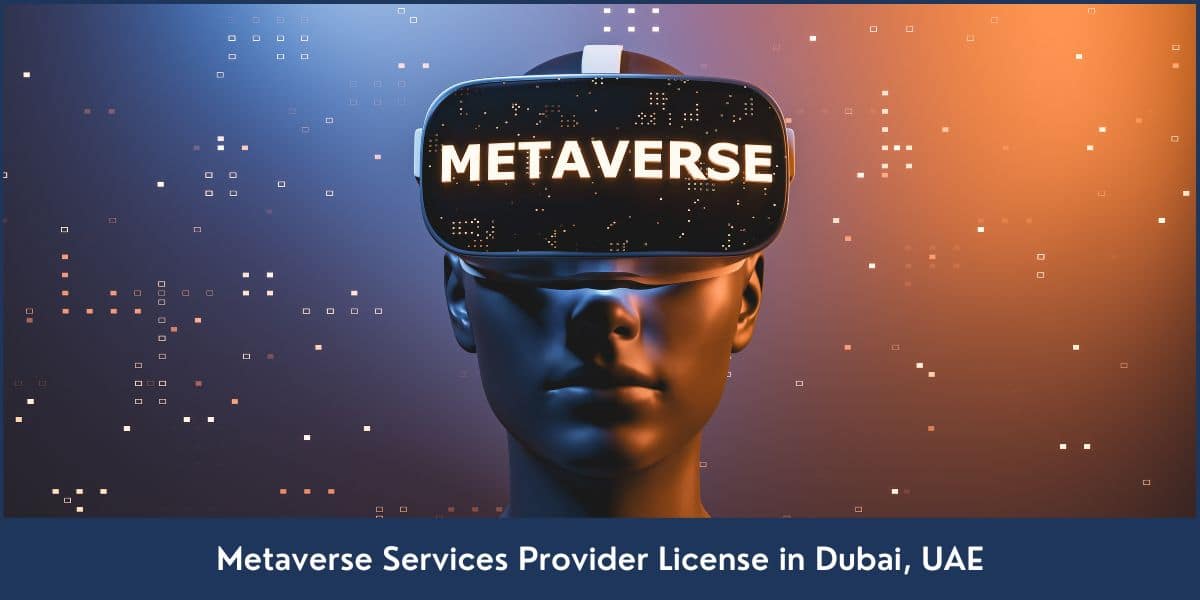 Metaverse is a word that is probably new in the field of technology. You might have heard it from your friends or come across a post about it on social media platforms. The hype and buzz about metaverse are increasing day by day among business people and for the right reasons.
This innovation is considered the best platform to run digital businesses and has the capability to generate above $1 trillion in profit every year. Experts believe that it will be the biggest industry in the coming future and will create unlimited commercial opportunities for businessmen, entrepreneurs, and investors across the globe belonging to any industry.
Some Necessary Information About Metaverse
Many of you might not have gone through the basics of the metaverse before seeking the metaverse service provider license in Dubai, UAE. 
The metaverse is a persistent and shared digital space It exists in real-time and emerges from the fusion of virtually enhanced physical reality and virtual reality (VR). 
The virtual environment will be independent of the device being used to operate it. No one would have full control of the metaverse. The metaverse features an independent digital economy which further strengthens the interplay of metaverse and business opportunities. 
digital currencies and NFTs or non-fungible tokens are responsible for driving the metaverse economy. This is the reason why businesses and startups can choose it as the perfect platform to look for modern business ideas in a virtual world.
Although the concept of the metaverse is not new, it is an evolving reality. In 1992, Neal Stephenson was the first person to use the term "Metaverse" in a novel titled "Snow Crash."
It was somewhat of a new concept for the companies and firms to digest. But a lot of the world's leading companies later made and developed their online communities on the basis of this concept. The goal was to gather people under a single virtual roof and help them transform their way of living.
The innovative combo of various modern technologies, which are equipped with the metaverse, would show the potential of businesses in this virtual environment. Some of the most prominent technologies that build the metaverse are head-mounted displays, AR or Augmented Reality, spatial technologies, AR cloud, and IoT or the Internet of Things. 
Technology Experts have lauded the metaverse as the internet's next-gen evolution, in which various websites are transformed into virtual places in a shared virtual environment. As a result, just as the internet and web 2.0 aided the emergence of e-commerce, businesses can enjoy many benefits from the metaverse.
Benefits of Starting Metaverse Services in Dubai
People are slowly but deeply realizing the worth and potential of the metaverse. That's why firms and companies are preparing themselves to use the virtually available space of metaverse to offer tons of the latest digital services to the masses. Metaverse is providing a huge number of lucrative business opportunities to everyone, from new startups to well-established companies, for making big bucks out of them.
The metaverse company or startup in Dubai, UAE will be a great asset for many people. Here, they will have the chance to explore new ideas, take calculated risks, do experiments, establish new businesses, grow as a leader, train the staff, work on community development, and much more. 
Other than these positive sides, there are numerous key advantages of running a business in the metaverse which are as follows:
The Metaverse gives you the ability to scale your business globally without having to open franchises in different locations or cities. In the Metaverse, you may create a worldwide hub to reach out to billions of individuals and offer them your services.

Metaverse is not just a business-to-consumer marketplace. Rather, it is the type of platform that will help B2C environments, and give the enormous potential for B2B businesses.

In the Metaverse, there would be clear governance, which would serve to reduce the risks linked with running companies.

Users that use virtual space and technology in the metaverse can experiment or test with things or services at a lesser price.

It is expected that this platform will significantly increase access to potential consumers across the world, allowing them to get their hands on products that were previously unavailable.

Businesses that can easily adapt a technology will be able to reduce manufacturing costs and increase income at an exceptional rate.

Metaverse is more than merely a commercial platform. It will also assist people in finding better career opportunities. Consider finding work with a UAE-based company without being relocated to the country.
Metaverse Services Provider License
Let's start with the details of the metaverse services provider license. The Metaverse Services Provider license was recently published this year by DMCC (Dubai Multi Commodities Center). This license is for businessmen, entrepreneurs, or investors who are active in developing and hosting virtual environments. 
Keep in mind that the metaverse services provider license cannot be used for the creation and issuance of exchange and tradable tokens. The license also does not allow you to do trading of crypto assets.
DMCC allows you to trade some NFTs in an NFTs e-marketplace platform. They have launched the platform for this purpose. The platform is intended to improve and make easier interactions between counterparties. You cannot promote or trade crypto assets.
Working of Metaverse Service Provider License
As discussed earlier, services in the metaverse operate via a virtual space in which people interact with one another and collaborate with everyone to form a strong internet community. Not only that but, people in the metaverse will take the help of digital avatars to portray themselves in front of other people and make a firm community in a virtual way.
Digital money, sometimes known as cryptocurrency, is used in the Metaverse to purchase a variety of products, such as shielding and weapons in video games. In addition to that, users can also use a virtual reality (VR) headset to travel across the Metaverse platform.
Basically, this license will allow you to conduct business operations related to the metaverse. Without the license, you cannot do any business or run a company that provides metaverse-related services to the people.
Businesses running in an area of the metaverse will act as service providers to people across the globe, especially in the UAE. These businesses include gaming, decentralized hosting, the entertainment industry, virtual products (NFTs), decentralized social media platforms, the business industry, and much more.
Metaverse services providers will act as a channel to help the people of Dubai and the rest of the UAE to collaborate, make and empower their networks with other people residing in different parts of the world.
How to Obtain a Metaverse Services Provider License in Dubai, UAE
If you are thinking about hosting or developing metaverse environments or starting a business in the metaverse, you would be needing the metaverse services provider license in Dubai, UAE. But getting the license on your own is quite hard and multiple complexities are involved in the whole process. 
This is where renowned and trustworthy business setup consultants in Dubai, UAE come into the picture. You should reach out to credible and experienced business setup experts such as Riz and Mona to issue a metaverse service provider license in the United Arab Emirates. 
At Riz and Mona, we will you through the entire process, from initial planning to obtaining the metaverse services license and getting started with your business in metaverse with ease.
The cost of a metaverse services provider license varies from city to city in the UAE. It also depends on the type of business you want to start in the metaverse or the service or good you are going to offer. You can get in touch with Riz and Mona to get more in-depth information and a complete breakdown of the license cost.
NFT and Metaverse Business in Dubai, UAE
The metaverse is flourishing and creating a vast universe of economic opportunities for everyone. As a result, several new technologies have joined forces with each other to support the new "tech normal" and help to achieve its goals. Headsets for Augmented Reality (AR) and Virtual Reality (VR) have increased their impact on providing a better user experience to people.
Blockchain has also made it possible for non-fungible tokens (NFTs) and cryptocurrencies to become operational. People are able to monetize their activities using digital tokens such as non-fungible tokens because of the latest method for buying, selling, doing transactions, and owning digital products.
After integrating with blockchain technology, Metaverse is now known as an NFT-powered platform. Users can use digital or crypto-tokens such as NFTs in the virtual world to acquire or buy objects, products, and items including digital clothing, real estate, avatars, and more on the platform.
How to Start a Metaverse Business in Dubai, UAE
Following are steps that you would need to take in order to get started with your new metaverse business in Dubai, UAE:
1- Appropriate Visual Settings
Start by making a 3D universe for your brand. You can use your creative direction to create an out-of-the-box 3D universe. You can use it across a number of different metaverse platforms featuring a variety of technologies.
2- Come Live on Your Channel
Then, you should create your metaverse on your own website. You should have first-party customer information or you might not be able to create your metaverse like your business demands. The Obsess platform enables full e-commerce integrated interactive shopping capabilities for physical products & goods and NFTs in your online store.
3- Publish on Some Other Metaverse Applications
Post that, you should decide on a metaverse site that has the highest number of viewers that have the potential to be attracted to your brand. You can develop and transform your virtual store to prepare it for such platforms.
4- Register for a Metaverse License
the last thing to do is to obtain your metaverse license in Dubai, UAE. You should obtain it after calculating the cost of launching your company in Dubai. You should also determine how and when you need to launch your metaverse company in UAE prior to getting the license.
From timely planning to receiving a license from the respective government department, a reliable business setup consultant, such as Riz and Mona, will help you streamline the whole company setup process so you can easily begin your metaverse business.
How to List NFT in Metaverse?
NFTs are special, one-of-a-kind, and indivisible digital assets that are accessible to everyone. NFTs were developed using blockchain technology. They show exclusive ownership for the lone owner. These digital currencies are having a significant impact on everything in the Metaverse, from the gaming industry to art, you name it. 
This is how you can list your NFTs:
You can make any type of NFT. It can be paintings, music, videos, images, or anything else you wish to produce virtually and sell in the NFT marketplace to earn profit.

You can pick the NFT market from a variety of options. One of the most well-known markets for NFTs is OpenSea, which is quite user-friendly and trustworthy.

Once you have made your NFT, showcase it to the NFT marketplace to boost its value, presence, and worth. Higher the worth, the more money you will be getting from the buyer.

To find a buyer, start marketing your NFT in the community.
VARA
VARA stands for Dubai's Virtual Assets Regulatory Authority. It has made a metaverse headquarters in "The Sandbox" digital world. The headquarters' location within The Sandbox is still not known to anyone
It became the first regulator in the world to establish itself in the Metaverse by setting up its Metaverse HQ in the exciting virtual environment known as "The Sandbox."
VARA became operational at the start of March 2022 to establish an advanced regulatory system and legal framework for digital assets in Dubai and other parts of the Emirates.
Additionally, VARA controls how custodians and asset managers operate in the cryptocurrency industry. Businesses that want to operate in Dubai or the rest of the UAE must establish a local presence in the business community and apply for a crypto license with VARA.
It is a constituent of the government's efforts to make Dubai a center for the digital economy and virtual currency. In that regard, the government has already been successful to some extent by luring Singapore's significant businesses like Three Arrows Capital and By bit.
VARA plans to control the governing principles of the services and activities rather than constantly changing the underlying technologies and products since it is created to provide a secure and progressive operating framework for the virtual asset (VA) industry so that it can scale.
The government of Dubai believes that they hold a leading position at the forefront of the transformation of technology. They are way ahead to play the role of an early adopter in order to become a participant and innovator in deciding metaverse technology's future.
In an emphatic commitment to enabling economic freedom in the Metaverse, VARA has joined private sector market makers, game-changers, and innovators across the fields of lifestyle, ICT, entertainment, professional and financial services, and FMCG beyond the world of VASPs and gaming. 
VARA Metaverse headquarters will act as its main channel to engage VASPs in the world to initiate applications and let younger licensees step into the metaverse. They will be able to openly share experiences and knowledge with peer regulators and consumers. It will help in raising awareness, driving global interoperability, and letting safe adoption of the metaverse.
Additionally, a task force will be established by the UAE government to monitor new developments in the Metaverse and digital economy. The committee has started working on the Dubai Metaverse Strategy's key pillars and objectives.
The strategy intends to amp up the contribution of the metaverse sector to nearly 1% of Dubai's GDP and Dubai's economy to almost 4 billion US dollars by the end of 2030. This strategy is based on the latest and most accurate information and data.
The committee wants to use metaverse technology to produce the 42,000 new job vacancies. It also wants to boost resident engineers' productivity by 30% and surgeons' performance by 230%.
By 2025, it is predicted that the metaverse's commercial profits might increase from 180 billion US dollars to 400 billion US dollars.
In order to further strengthen Dubai's position as the best city in the digital space, thanks to innovative services and an advanced legislative and regulatory framework, the UAE government will also establish a higher committee to monitor developments in the digital economy and technological advancements in Dubai.
How Riz and Mona Can Help You Start Metaverse Business Services in Dubai, UAE
Riz and Mona is the top business setup consultancy, assisting hundreds of entrepreneurs with the smooth establishment and growth of their businesses in Dubai, United Arab Emirates. Identifying your target market, streamlining the procedure, and, most importantly, obtaining a business license in Dubai are just a few of the hurdles that may arise on your way to starting a Metaverse business in Dubai.
Riz and Mona are more than capable of assisting you in understanding the VR market potential for your company in the metaverse, finding a niche for you, analyzing your competition, developing successful marketing plans, and strategies, and becoming familiar with the Metaverse & NFTs, etc. In addition, Riz and Mona will assist you in acquiring a Metaverse business license in Dubai, United Arab Emirates, to ensure an error-free expansion of your company into the amazing Metaverse platform.
Being one of the leading business formation consultancies in the UAE, Riz and Mona offer complete 360-degree support for business registration in Dubai. We have a team prepared to give priority and importance to the requirements and demands of your technical service metaverse business.
Riz and Mona, the Metaverse business license and company registration service provider in Dubai, also offer additional services necessary for the effective functioning of the business. So, what are you waiting for? Simply contact us on WhatsApp # 00971 54 582 1012 right away to schedule a free consultation.