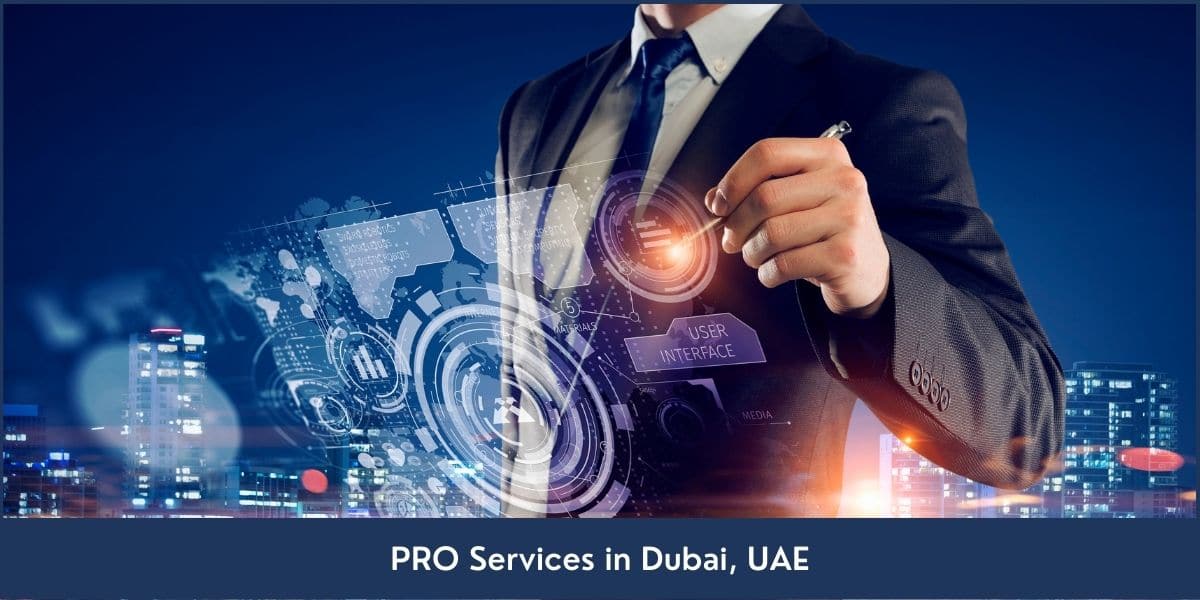 Everyone knows that the United Arab Emirates is always full of investors looking to set up their businesses. Foreign investors and international companies are always looking for a place to invest which is culturally diverse, has modern amenities, business-friendly policies. Moreover, they also eye for world-class infrastructure, terrific connectivity, and loads of tax incentives.
Fortunately, the UAE is the only place that has got all of the above-mentioned features which attracts foreign investors to the UAE for setting up businesses. However, a business in the UAE is established after several legal steps. For instance, getting initial approvals, applying for licenses, and opening a corporate bank account are some of the steps after which the business setup is completed.
PRO services in UAE help in passport clearance, immigration process, applying for a business license, registering a trademark, and various other important things. If someone has just launched their business, they know the worth of every passing second. Especially if they want to set up their business in the UAE. They can hardly ever waste their time running in and around government offices to complete the necessary paperwork. This is the point where PRO services come in handy.
What are Pro Services?
PRO services are the professional document clearing services authorized by the government of the UAE. The government of the UAE gives the PRO services some relevant documents which are used in setting up a business in the UAE.
Anyone who is new to the surroundings of the UAE and is unaware of the steps involved in setting up a business can benefit from the PRO services in the UAE. The Public Relationship Officer (PRO) will assist with getting through the Department of Economic Development (DED), Visa and Immigration Department, Chamber of Commerce and Industry.
Types of Pro services in UAE
Starting in the field of business in the UAE requires passing through several steps. The primary step is made up of legal formalities. Only after completing these legal formalities, a business will be given lawful authorization.
Since completing legal formalities can consume time and precious resources of the company, PRO services will make sure that these formalities are completed without any error and on time.
Some of the common PRO services in Dubai/ Abu Dhabi are:
Help with opening a corporate bank account
Visa and passport clearance
Registration of trademark
Applying for immigration and labor cards
Company and branch set up
Applying for a business license
Renewal of a business license
NOC letters
Notarization of all the legal documents
Pro Services in Dubai
The city of Dubai is witness to rapid economic growth. During the past 20 years, Dubai has attained a global status due to its unprecedented growth in the business, finance, trade, and tourism sectors.
Setting up a business can be a difficult task because of the lengthy paperwork and requirements linked with it. Any businessman cannot waste their time filling this lengthy paperwork and running in and around various government departments.
Every business organization needs a Public Relations Officer or a PRO. PRO services deal with all the required documents such as visa applications, labor cards, business licenses, etc. It ensures all these necessary steps are completed without any difficulties.
Setting up a new business in Dubai requires the completion of several steps. These steps are legal steps and are in accordance with the guidelines of the Department of Economic Development (DED), the Ministry of Labour, Dubai Immigration, and other public departments.
Companies in Dubai will need the services of a Public Relations Officer (PRO). PRO is also known as Government Liaison Officer.
PRO services in Dubai will make sure that their clients easily go through the immigration process, obtaining a business license, passport clearance, etc.
Although the processes and steps for setting up a new business in Dubai are pretty simple and straightforward, they can consume a lot of precious time. PRO services in Dubai will make sure that business owners do not waste their precious time grappling with these processes, of which they have little knowledge.
Why PRO Services are Needed in Dubai?
There are many steps for which these services can help an individual or a company with little acquaintance with the environment of Dubai.
PRO services in Dubai can help with:
Documents processing in the Labor, Immigration, and various other government departments
Applying for Company Immigration Card and Labor Card
Attestation of important legal documents through a public notary
Processing and renewal of both existing and new employees
Registration of trademark, copyright, and patent
Applying for approvals and No-Objection Certificates (NOC) from the government departments
Translation of various legal documents into Arabic
Applying and renewal of business licenses
Documents clearance from Dubai Municipality and Chamber of Commerce
These are a lot of steps that can consume the precious time of business owners. PRO services will help business owners with all these steps after which their business will receive lawful authorization. 
Types of PRO Services in Dubai
There are three different types of formalities that require these services in Dubai
Certificate Verification
Following certificates can be verified through PRO services in Dubai
Power of Attorney
Affidavits
Birth certificates
Educational certificates
Police clearance certificate
Provisional certificate
Transfer certificate
Company Liquidation
PRO services can help with following business-related formalities
Dissolving a company in Dubai
Conducting a final audit
Closing a bank account
Terminating a business license
Consultancy
PRO services offer consultation for the following
Changing a physical address
Renewing a passport
Endorsing a spouse's name
Travel documents for servants
Changing of name
There is a wide range of services PRO can help with. It will not only save money but also precious time.
Benefits of Pro Services in Dubai
By hiring the services of a PRO, any business can get the following benefits
Time-Saving:
As starting a business in Dubai requires legal formalities of filling and submitting documents in different government departments, hiring PRO services will ensure that business owners are not faced with these time taking processes. Otherwise, business owners might have to stand in long queues by themselves just to get a single document cleared.
Cost Reduction:
Going to various government departments for submitting different documents will take a great cost. However, if companies hire the services of a PRO in Dubai, they can save a lot of money that would have been otherwise wasted on the processing and clearance of the documents.
Reminder Services:
PRO services will maintain the record of all the important documents related to a company. They will offer timely reminders as to when the business license and employee visa are expiring and renewed. Besides, it keeps a company well informed with all the latest rules and regulations being enacted in Dubai.
Increased Transparency:
PRO services will provide all the receipts, and copies of the government charges. Therefore, it will bring transparency to the business and save it from any unwanted situations.
Anyone looking to set up their business in Dubai must take the services of a Public Relations Officer. The Public Relations Officer will ensure that the business owners do not waste time standing in queues in different government departments.
PRO services will pick up documents from government departments and deliver them to the doorstep after receiving approval from the government authorities.
Why Choose Us?
Riz and Mona Consultancy are specialized in PRO services in Dubai and the United Arab Emirates (UAE). We offer the best  PRO services in Dubai mainland and all the free zones in Dubai and across the UAE. Our consultants are specialized in the employment laws of Dubai, UAE, and free zones. Business owners face many challenges, when it comes to dealing with government authorities for, visas, labor contracts, medical tests, emirates IDs,  license renewals, license amendments, chamber of commerce, ministry of health, and Approvals from KHDA, ministry of foreign affairs, and immigration department. With our specialized services in the PRO sector, you can skip your queues at government offices and focus on your business while we handle the authorities on your behalf for paperwork.
We Offer
Documents processing from Dubai Municipality and the chamber of commerce
Documents attestation from Foreign affairs / Ministry of Justice/notary etc.
Processing of new employment visa and renewal of old
Documents attestation for Chamber of Commerce
Processing of new investor Visa and renewal of old
Processing of Spouse and family visa and its renewal
Employee Labour and immigration cards
Arrangement of visit visas and their extension
Attestation Services in Dubai, UAE
Registration of a new Trade License
Employment visas for all free zones
Documents attestation
Trade License renewal
Mail collection service
We employ experienced professionals in public relations services. We understand the client's requirements and have an understanding of the formalities and requirements of government departments. Our firm maintains the highest level of professionalism and confidentiality with all the documents. Book a free appointment with us today.