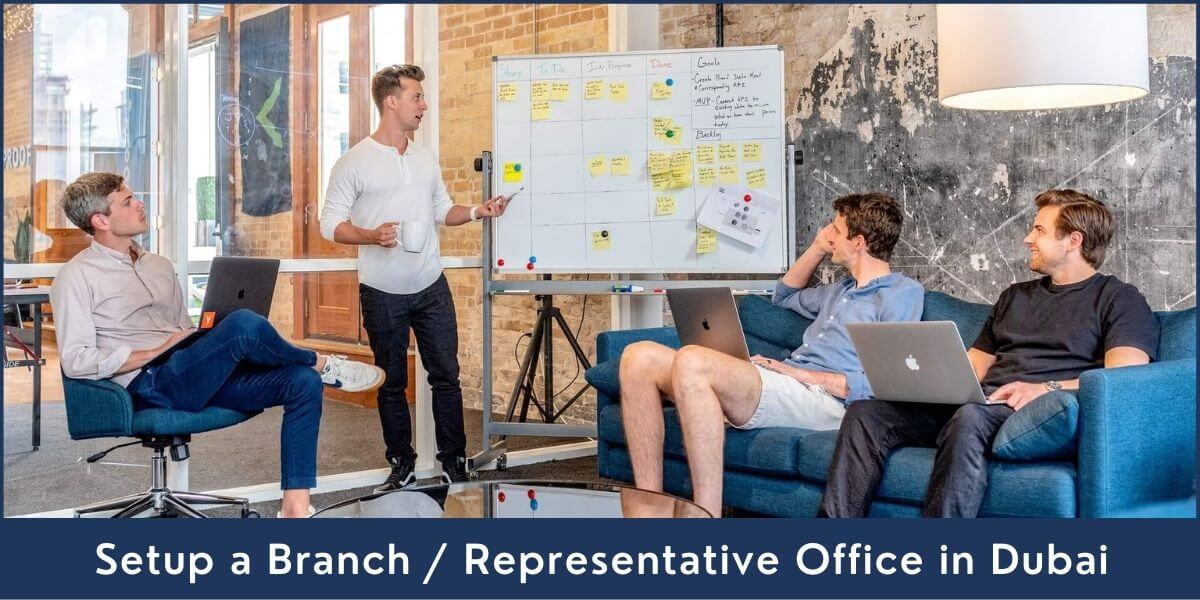 Dubai Mainland Company is the most common type of business entity in the emirate of Dubai. It has several benefits for which many foreign investors choose this basic type of structure for their company formation. But there are few shortcomings in this type of business formation also. The most important one is that foreign company owners only get 49% shares of Dubai Mainland Company while local sponsor holds remaining 51% shares of a foreign company. But a foreign company can easily avoid this condition and gain complete ownership of its business by opening a branch office in Dubai. 
Branch Office in Dubai
Any entrepreneur looking to get a strategic advantage in the booming UAE market faces a variety of choices. Although many prefer free zone or traditional mainland setting, a branch office is a perfect choice if you are looking for a foothold in the local market whilst also maintaining 100% control of your company.
In most cases, the parent organization, whether located in the UAE or overseas, is directly responsible for the commercial operations of the division. And the branch office is just an extension of the existing business. Aside from the case of a division that is deemed to be entirely independent, the branch office does not have a separate legal status from the parent corporation. In the same way, while most branch offices are permitted to participate in the local UAE market, they can only conduct similar business activities to the parent company.
There are many great reasons to think about opening up a company branch office – from a favorable tax rate to a foothold on the door of a new sector. But first let's look at the different types of a branch office that you may set up in the Emirate, and what each is allowed to do.
Types of Branch Office
There are four different types of branch offices. The one that adequately suits your needs will depend on your business activities, the structure of your company, and a few other key factors.
Corporate shareholder: The parent company can be located either in the UAE or abroad. Corporate shareholder offices permit an individual shareholder to possess, along with the license, a stake in the company. For instance, 50 percent of the corporation may be owned by a UK group, 25 percent by an individual (based either in the parent company's country of origin or in the UAE), and 25 percent by another person. It is also possible to have several business owners.
Branch company: This is the most common setup in the UAE. As with the corporate shareholder option, the branch company's parent can be based either in the UAE or overseas. However, branch companies differ from corporate shareholder offices in that the parent company remains the sole owner. As such, there is no share capital required to open a branch office. The branch company also uses the parent's articles of incorporation.
Representative office: Representative offices are typically the most cost-effective of all types of branches. Again, the parent company can be based either in the UAE or abroad. The biggest distinction with the executive offices is that their corporate operations are restricted to the promotion and sourcing of jobs for the parent organization. Representative offices are not permitted to make a profit in the UAE and will outsource their jobs to the parent corporation.
Subsidiary: Subsidiaries are possibly the most uncommon type of branch in that they are deemed to be a distinct legal entity to the parent corporation and must be managed from within the UAE. This means that the subsidiary takes absolute accountability for its actions and business operations. Parents of subsidiaries may be located either in the UAE or overseas, but the management of the subsidiary itself must be located in the UAE.
Difference between Branch and Representative Offices
There is a slight difference between branch office and representative office of a foreign company.
Branch office of a foreign company is allowed to perform any business activity similar to that of its parent company. It can also earn profits with these business activities.
Representative office can only do marketing and promote products and services of its parent company. It is not permitted to earn profit through business activities.
Factors to Consider When Establishing a Branch Office
When choosing to set up a branch office in Dubai, one must consider:
The branch office will be required to complete the same activities of the foreign company.
The parent company must apply for the necessary licenses with the Dubai authorities.
The branch office is not considered a separate legal entity from the foreign company.
The parent company will be accountable for the obligations and debts of the Dubai branch office.
The branch office will be taxed on the income earned in the UAE.
Steps to open a Branch Office in Dubai
The UAE government has offered a convenient and fast way to establish branch offices in Dubai or UAE. If you are looking to set up a branch office in Dubai, we have laid out the steps to follow for your convenience.
Appointing a Local Service Agent
Reserving a Trade Name and Initial Approval
Filing of Application
Getting Approval from Ministry of Economy and Federal Foreign Companies Committee
Issuance of License by Department of Economic Development
Completing Administrative Tasks
Registration with Commercial Authorities
Benefits of Setting up Branch Office in UAE
A foreign company in Dubai holds 100% shares of its business through a branch/representative office. As compared to Dubai Mainland Company, they don't need local sponsors.
The only requirement of a representative/branch office is to appoint LSA (local service agent). These agents have no part to play in the operations or management of a company. They only perform administrative functions.
The branch office is allowed to do business activities on behalf of its parent company. It can earn profit through these activities.
A representative office can't earn profit but it is allowed to market products and services of its parent company. Through this way, it can provide exceptional benefit to its parent company by introducing its services in Dubai and other parts of UAE.
To sum up, following are the key benefits of opening a branch office in Dubai:
Tax benefits
Audit trail
Low administrative burden
A cost-effective route into new markets
Requirements for Opening a Branch Office
Branch or representative of the foreign company is required to submit a bank guarantee of AED 50,000 in favor of Ministry of Economy as it is a part of the license processing procedure.
To open a branch or representative office in Dubai, a manager must be appointed to represent the company; the manager must have an approved motion by the Board of Directors to open the branch.
What Riz & Mona Offers
Getting approvals and permissions from concern departments
Preparing the obligatory documents and MOA
Identify a trusted and qualified local service agent
Assistance in opening the bank accounts
Assisting to find suitable office premises
Handle other documentation formalities