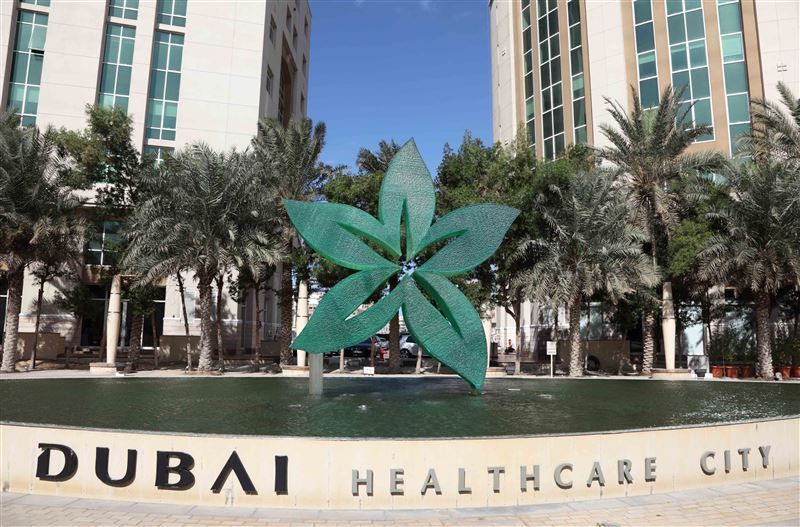 The Dubai Healthcare City (DHCC) Free Zone was established in the year 2002 under the visionary leadership of the Prime Minister of the UAE and the Ruler of Dubai, His Highness Sheikh Mohammed Bin Rashid Al Maktoum. At that time, it was the world's first-ever Medical Free Zone.
The idea behind the DHCC was to ensure the provision of world-class healthcare facilities and offer an avenue for development opportunities for foreign investors.
The DHCC is home to high-end healthcare and pharmaceutical companies. Due to its well thought out location, DHCC is within the reach of everyone from anywhere in and around Dubai.
The Dubai Healthcare City is situated near Rashid Hospital in Bur Dubai, which is easily reachable from the Creek Side Park and Dubai Creek. One can also embark on to Sheikh Zayed Road from Al Ain and Abu Dhabi to reach DHCC.
A subsidiary of Dubai Holding, Tatweer, built and owns The Dubai Healthcare City. The total worth of DHCC stands at US 1.8 billion.
Besides promoting medical tourism, DHCC has many private clinics and hospitals, pharmaceutical offices, teaching and research institutions, rehabilitation centers, and spas. Moreover, DHCC can easily accommodate a large number of residents with numerous 5-star hotels, apartments, and villas available to live in.
Dubai Healthcare City is on its way to becoming the global leader in healthcare with its superior health and patient care services in different specialties. With each passing day, DHCC adds new healthcare services and expertise which sets it apart from any other such project around the world.
The healthcare standards and protocols in DHCC are in line with international standards as hundreds of prominent healthcare professionals are working in it. The healthcare professionals working in DHCC ensure the provision of the best healthcare services to the patients in accordance with the established standards.
Advantages of Starting a Business in DHCC          
Mentioned below are the benefits one can reap if they decide to start their business in DHCC free zone.
100% exemption from all kinds of taxes
Complete foreign ownership of the business
Complete exemption from income or corporate tax
Complete exemption from customs duty
Freedom of repatriating profits
No hidden trade or quota barriers
Freedom to establish a clinic on lease or purchase
A chance to interact with international brands and customers
Available Business Licenses in DHCC
Foremost thing a healthcare organization will need in order to set up its business within the Dubai Healthcare City (DHCC) free zone is a license. Healthcare and pharmaceutical companies, depending on their type, can apply for the following 3 kinds of business licenses in the DHCC free zone.
This service enables the facility operators to apply for a new Commercial License within Dubai Healthcare City Free Zone.​
Free Zone Limited Liability Company (FZ-LLC)
A free zone limited liability company (FZ-LLC) is a company formed as an independent legal entity with shareholders as an individual(s) and/or corporate(s) minimum capital requirement for incorporation depending on business activity. To set up an entity as FZ-LLC a minimum of one shareholder and a minimum of one director is required.
Branch of UAE Company/Branch of UAE Establishment
A branch of UAE Company is considered a legal depended company that's is part of its UAE registered parent company outside the DHCC jurisdiction. Any company established outside the DHCC, either licensed as a company or establishment can obtain a branch license within DHCC. The Branch Company should be fully owned by the parent company. No minimum capital is required.
Branch of Foreign Company​
A branch of a foreign company is a legal depended company of its parent company outside the UAE, even if its place of business is not in the parent company's headquarters. no minimum capital required.
Starting a Business in DHCC Free Zone 
Given the benefits DHCC free zone has to offer, a number of international companies obtain business license DHCC. Following a certain procedure, companies can easily obtain business licenses. However, international companies looking to kick start their business in the DHCC free zone must keep in mind some important conditions.
For instance, the kind of DHCC license acquired by the company will determine the company's incorporation. The license can be medical, service, or commercial in nature.
Moreover, a company seeking to set up a business at DHCC free zone should have 2 directors and at least 1 shareholder. The shareholder in the company seeking to start a business can only be a resident of the Dubai free zone. Furthermore, the company is bound to call a meeting of its shareholders once a year.
Steps to Establish a Business in DHCC Free Zone 
Setting up a business in DHCC free zone is as easy as it gets. The foremost step for a company looking to establish its business in DHCC free zone is to apply for a DHCC license.
Sign up as Investor
Submit the Initial application
Make initial application Payment
Obtain Provisional Approval
Submit Commercial License Application
Make commercial License Payment
Submit Proof of Share capital ( for FZ-LLC only)
Submit Original Legal Documents as applicable
Collect Commercial License​​
The regulators of the DHCC free zone will carefully evaluate the company's application. A company will be awarded a DHCC license with 2-4 weeks after submitting a formal application.
Documents Needed to Setup a Business in DHCC Free Zone
In order to set up a business in DHCC free zone, companies need to furnish certain documents before the DHCC regulators.
Setting up a New Company
Evidence of a trading name and initial approval to carry out business activities
Copies of the passport of all shareholders
A copy of the resume and passport of the company's manager
A sheet having personal details of all shareholders and manager
Proof of lease agreement [setting up a new business in Dubai requires a physical business address]
Corporate organizations shall have to submit an attested and notarized Memorandum of Association from the UAE Embassy from the native country
An attested proof of appointment of legal counsel for the company
Attested copies from the UAE Embassy of registration of any existing businesses
Proof of physical address of the company
Setting up a Branch
Copies of passport and detailed information of all shareholders and manager
Evidence of a trade name reservation of the new branch and initial approval sheet for the activities undertaken by all shareholders and manager
Proof of the initial approval of the activities to be conducted in the new branch
Notarized Memorandum of Association of the main branch of the company by a UAE public notary from the native country
Proof a lease agreement [companies must have at least 60 sq. m of space of physical address in the UAE]
A duly attested and notarized proof by the UAE Embassy of the registration or license of the company
Board resolution of all existing directors of the company expressing interest to set up a new branch in DHCC Freezone (only for corporate shareholders)
A detailed profile of the company's main branch
Proof of physical address of the company
All the documents mentioned above must be furnished before Dubai Healthcare City (DHCC) free zone authority.
Dubai Healthcare City Commercial License Fee:
Commercial License & Clinical Operating Permit Fees
 

Healthcare

One Time Service Fee

(New Business Partners Only)

 

Segment/Activity

Commercial License
Operating Permit
Pre-Op Assessment
Post-Op Survey

(6 months)

Clinical In-Patient
Hospital (General/Specialty/Teaching)
Less than 50 Beds
25,000
20,000
3,750
–
51-100 Beds
29,000
30,000
6,000
–
101-150 Beds
37,000
45,000
7,500
–
151 Beds and Above
45,000
45,000
9,000
–
Home Healthcare Provider

(Part of General or Specialty Hospital only)

–
6,500
3,000
–
Hospice Care Center
15,000
14,250
3,000
–
In-Patient, Rehabilitation Center

(Behavioral/ Physical/ Pediatric)

15,000
14,250
3,000
–
Long Term Care Center/ Nursing Home
15,000
14,250
3,000
–
Clinical Out-Patient
 

Multi-Specialty Clinic

Up to 2

specialties

15,000
14,250
3,000
–
3-6 specialties
15,000
20,250
3,000
–
7 specialties and above
15,000
23,500
3,000
–
Single Specialty
15,000
6,500
2,000
–
Outpatient Rehabilitation Center

(Behavioral/ Physical/ Pediatric)

 

15,000

 

14,250

 

3,000

 

–

Outpatient Surgical Clinic
15,000
21,500
3,000
–
Clinical Support Facility
15,000
6,500
2,000
–
Renal Dialysis Center
15,000
14,250
3,000
–
Gastrointestinal Endoscopy Center
15,000
14,250
3,000
–
Fertility Center
15,000
20,250
3,000
–
Sleep Medicine Center
15,000
14,250
3,000
–
Medical Fitness Center
15,000
14,250
3,000
–
School/Nursery/Hotel Clinic
–
6,500
2,000
–
First Aid Unit
–
6,500
2,000
–
Telehealth Center
15,000
14,250
2,000
–
Patient Support Services
Patient Escort Services
15,000
4,750
–
–
Pharmacy
Community Pharmacy

(including Compounding Pharmacy)

15,000
6,500
2,000
–
Hospital / Inpatient Pharmacy
–
5,000
2,000
–
Internal Pharmacy (part of Outpatient Clinic)
–
5,000
2,000
–
Diagnostic Center and Medical Laboratories
Clinical Laboratory
15,000
7,500
3,000
3,000
Radio Diagnostic Center
15,000
7,500
3,000
3,000
Diagnostic Center (Clinical Laboratory & Radiology)
15,000
7,500
3,000
3,000
Non-Diagnostic Medical Laboratories
Stem Cell Processing/Storage Center
15,000
7,500
3,000
3,000
Therapeutic Biological Product Manufacturing Laboratory
15,000
7,500
3,000
3,000
For complete costing details, visit the DHCC ​Authority Regulatory
Why Start a Business in DHCC?
Dubai Healthcare City (DHCC) provides patients from all around the world with quality healthcare services. Medical practitioners working in DHCC develop innovative solutions to care for the patients. Due to its highly advanced preventive, maintenance, and rehabilitation services for different diseases, the medical community from all over the world is heavily investing in DHCC.
Apart from the medical benefits of DHCC, there are many other reasons for companies to set up their businesses at the DHCC free zone.
Some of the reasons are mentioned below.
Access to a diverse pool of healthcare professionals
Flexible real estate options according to one's preferences
Facilities equipped with state of the art technology
Minimum operational expenses
Joint healthcare community delivering quality healthcare services
Access to the highest quality medical equipment and professional doctors
Exposure to practice, education, and research in the field of medical
Companies looking to kick start their businesses in the Dubai Healthcare City (DHCC) free zone must follow the rules and regulations enacted by the regulators.