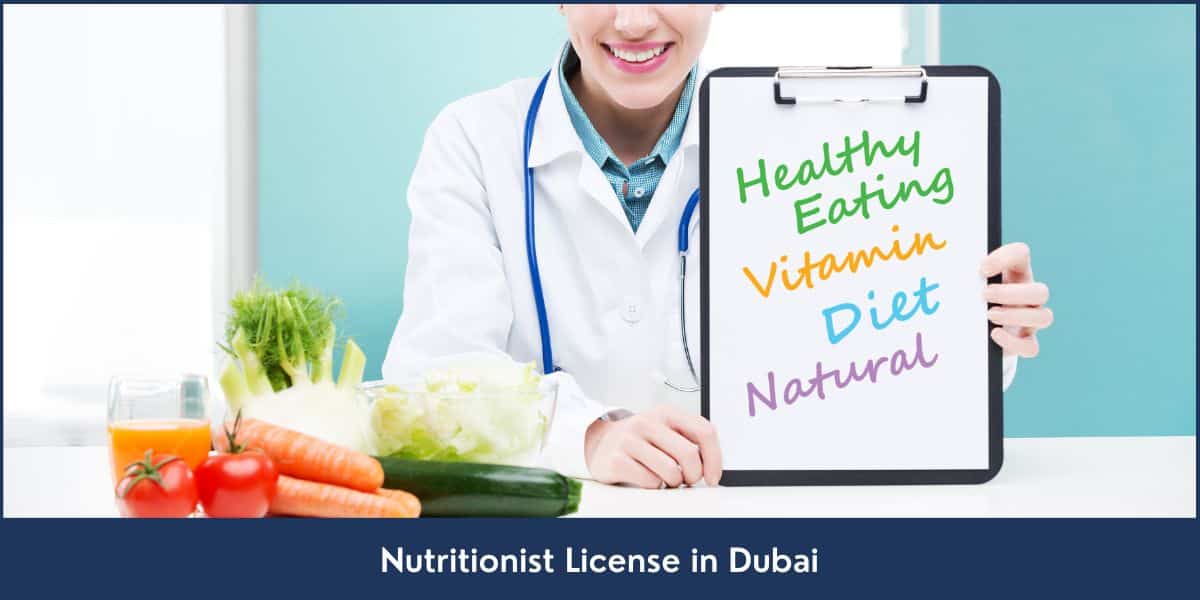 A nutritionist is a great career to pursue in Dubai. There are countless opportunities for newbies and experts to offer their services as a nutritionist in the Emirates. But there is something called a Dubai nutritionist license that you should have before you can practice it.
The process of getting a nutritionist license in Dubai is pretty much straightforward and quick to follow. This comprehensive guide will give you all the information related to the start and end of the process of obtaining this license. Continue reading to find out more about the complete process.
Who is a Nutritionist?
Nutritionists have expertise in food and diet and support people in maintaining good health, treating or preventing illnesses, and guiding them to achieve health goals. These medical practitioners assist patients in developing programs to meet their nutritional requirements. People who have a medical condition, or are seeking to reduce weight, or improve their fitness may consult nutritionists for assistance in creating a diet that will enhance their health.
A professional nutritionist needs to have exceptional communication, organizational, and analytical abilities. They can operate both independently and collaboratively in this role.
However, they can also operate in the homes of their clients or in established institutes such as universities. Registered nutritionists frequently work in long-term care facilities, hospitals, medical offices, nursing homes, and other care settings.
Pick a Jurisdiction for Nutritionist License in Dubai, UAE
There are two free zones in Dubai where you can practice nutrition. These jurisdictions  
Dubai Multi Commodities Centre (DMCC) Free Zone
Dubai Healthcare City (DHC) Free Zone
1. Dubai Multi Commodities Centre (DMCC) free zone
This economic zone is located in another well-known jurisdiction in Dubai, Jumeirah Lakes Towers (JLT).  If you will position yourself at the top end of the market, ex-pats with large amounts of disposable income will be more likely to employ your services in JLT and the surrounding areas. The process of creating a firm here is straightforward, and most of it can be completed on their unique internet platform.
2. Dubai Healthcare City (DHC) Free Zone
Dubai Healthcare City (DHC) free zone contains a large number of medical facilities and thousands of medical experts. The area has grown to become a center of medical knowledge. The center is recognized both nationally and internationally. You can incorporate right here and gain tons of potential clients you require for success.
The cost of forming a company in DHC is on the higher end of the scale. For limited liability-free zone firms in Dubai Healthcare City, the required minimum paid-up capital is AED 300,000 for clinical establishments and AED 50,000 for commercial organizations. For branch establishments, no minimum capital requirement exists.
Then the last option is that you can choose to incorporate via the Dubai Department of Economic Development (DED) with the assistance of a local sponsor. With the guidance of the municipal license, you are able to open your business in a number of places all around the city.
How to Apply for a Nutrition Clinic License in Dubai, UAE?
The applicant must meet the general specifications and demands as a healthcare professional in order to be eligible for a nutrition license to practice as a nutritionist in Dubai. The steps to follow in this process to obtain a Dubai nutritionist license are:
Possess the Necessary Professional Qualification
You must hold a Bachelor's degree in Nutrition, Dietetics, or any other related health science field from an accredited university, institute, or college. The bachelor's degree program must focus on public health nutrition, dietetics and nutrition, human nutrition, and nutrition education.
Relevant Work Experience is Compulsory
Then, you must have a minimum of two years of work experience as a nutritionist in a clinical setting.
Clear an English Proficiency Test
There is a possibility that the applicant has not worked in a professional English-speaking environment for at least one year and their education was not taught in the English language. If that is the case, you are required to get a minimum band of 6.0 in the IELTS DHCA licensing exam or a minimum score of 550 in TOEFL.
Prepare the Documents Required
You are required to submit a Certificate of Good Standing (CGS) at the time of submitting your application. It is issued within the previous six months by the professional membership body or licensing organization of the economic zones. These zones are where the applicant currently possesses a registration or license to practice as a nutritionist.
Recommendation letters:
Two recent letters of recommendation in good standing from healthcare practitioners working in the same sector are required.
Being sustainably profitable is a business's top priority. So, gaining paying customers and providing them with top-notch services is highly recommended.
Give them a positive experience and the outcomes they desire to turn them into your loyal customers. After that, hand over the administrative work to an experienced professional who can develop a successful launch plan for you, saving you time and money.
At Riz and Mona, our business setup consultants in Dubai will help you with anything from office space to the business establishment in a smooth way. So contact us right away and get your company established in no time.
Frequently Asked Questions
How to become a licensed nutritionist in Dubai?
The process of becoming a licensed nutritionist in Dubai is not that hard. Just get your bachelor's degree with a good CGPA and earn a nutritionist license in Dubai to start working as a nutritionist.
How much is a nutritionist paid in Dubai?
In Dubai, nutritionists earn an average salary of AED 4,169 per month.
How much work experience is mandatory to obtain a Dubai nutritionist license?
At least two years of work experience in a clinical setting as a nutritionist is mandatory to acquire a nutritionist license in Dubai.
What qualifications do you need to be a nutritionist?
You will be needing to get a bachelor's or master's degree in the field from a reputable and accredited institute, college, or university to be a nutritionist.
How do I get a nutritionist certificate?
Get a bachelor's degree, submit the required documents, gain relevant work experience, clear an English proficiency test, and provide recommendation letters to the relevant authorities to get a nutritionist certificate.
Which license is needed to become an official Dubai nutritionist?
You will need a professional nutritionist license in Dubai to become an official Dubai nutritionist.
RIZ & MONA CONSULTANCY
If you want to start your business in Dubai, you can contact Riz and Mona right now. We will set up your company in the United Arab Emirates and handle your application process to save you from hassle.
---
Please Note: We do not provide any assistance regarding Nutritionist License. Read more about our company and how we strive to bring business services to our clients.