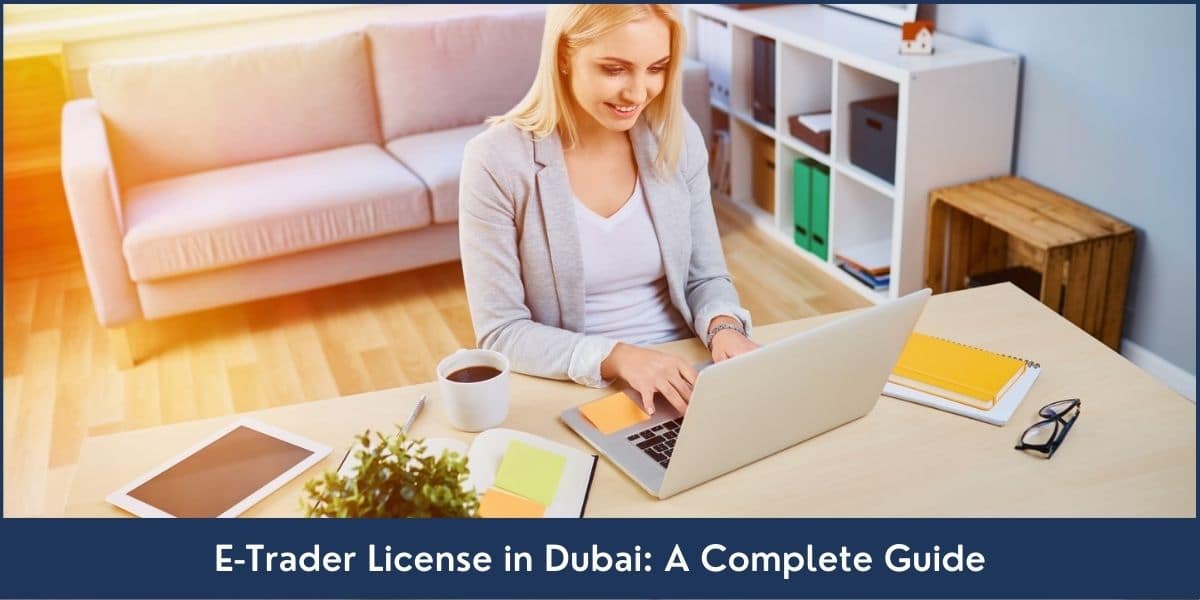 Usually, netizens only use social media platforms such as Facebook, Instagram, Tiktok, and more for scrolling their feeds or interacting with other people. But smart people such as entrepreneurs and businessmen consider it as a golden opportunity to sell their products and services from the comfort of their homes. In order to start your online trading business in Dubai, you need to acquire an e-trader license.
Why do you need this license? Well, we all are aware of the scams that scammers do with people worldwide. People have encountered similar incidents of fake sales, poor product quality, or selling copies of original products in the UAE. So, to avoid these scams, the Department of Economic Development (DED) introduced an e-trader license to verify that sellers are legit and trustworthy.
This guide will take you through the journey of getting the e-trader license. Keep on scrolling to learn about the process, required documents, and more details of the procedure.
Application Process for E-Trader License in Dubai
The process for applying for an e-trader license in Dubai is quick, straightforward, and non-complicated. Simply, you have to visit DED official website and create your account by entering the required details. You will also provide your social media accounts' information which you will use to start your online trading business in UAE. Once you have provided the asked details and entered the information correctly, your registration will be completed. You will get the confirmation of your license in about five to ten minutes. Once you get the confirmation, you can then print it out in a hard form. Typically, it takes three to five working days for the license to be issued. The license is valid for one year, so you have to renew it every year.
Before you begin selling online, make sure you have got your business license, or else you may end up getting into some trouble. There are some other conditions and requirements as well which you should be aware of to save yourself from any difficulty. You can get in touch with us to learn more about such requirements. Plus, if you want more in-depth information or need help in getting the e-trader license, Book a free appointment with us and we will provide you with comprehensive information and also handle your application.
Documents Needed for E-Trader License
Certain documents are demanded by UAE authorities to get rid of unauthorized, non-verified, and fraudulent businesses. According to the documentation policy, you will be required to submit the following enlisted documents:
Copy of the paid payment voucher of the license

Emirates ID along with proof of residence (Makani Number)

Registered trade name along with its approval

The applicant must be at least 21 years old. To verify the age, an official document that proves that you are of the required age.
Advantages of Having an E-Trader License in Dubai
Having an e-trader license in Dubai is no less than a blessing for young entrepreneurs or small business owners that run their business from home. Here's what you can do with this home business license:
Those freelancers or single-owner businessmen who want to avoid the hassle of opening a physical shop or store can get this license to run their business from home or office.

Business owners can market and highlight their services and commodities through different social media platforms or their websites and vend online.

It also allows you to take part in a variety of conferences and exhibitions happening in UAE and reach out to potential customers for making sales.

Your business is considered an authorized and legitimate one which increases online transactions and thus, boosts sales.

Your intellectual property, trade secrets, and registered trade name are protected. No one can copy or use any sort of variation for their business.

There are tons of e-commerce websites where you can promote and sell your goods and services. Some of the renowned online marketplaces of UAE are Amazon UAE, Souq, noon, and carrefour.

You can also attend various workshops and training conducted by the DED.

It boosts the confidence of customers and promotes hassle-free sales through the internet.
Points to Consider When Applying for E-Trader License of Dubai
The license is best for those if you are going to only trade in the Emirates. If you are planning to sell outside of UAE, you will have to get approval from authorized officials of the DED and get another e-trading business license. Individuals of other nationalities cannot do commercial trading. Instead, such people can sell a variety of professional skills and services.

The license is only issued to residents of UAE having Emirates ID. If you are not a resident of the UAE or don't have Emirates ID, you cannot get this license.

The applicant should be above the age of 21.
Get Your E-Trader License of UAE with Riz and Mona
We are confident that after getting enriched with the requirements, conditions, and details of the process, you can get started with your online trading business. To save yourself from the hassle or to get more information about an e-trading license, you can contact us. We will help you in obtaining the license and also assist you in conducting your business activities.