Umm al Quwain Free Zone
Umm al Quwain is the smallest of the 7 emirates of UAE. This emirate is less famous as compared to that of Dubai, Abu Dhabi and Sharjah. But this small emirate provides important and cost-efficient business opportunities to investors. An example is the Umm al Quwain Free Trade Zone (UAQFTZ).
Umm al Quwain Free Zone Company Formation
This only free zone in the emirate of Umm al Quwain provides lucrative business and investment opportunities, especially to small entrepreneurs. An important benefit of this free zone is its strategic location. Below are some of the advantages of acquiring a company in UAQ Free Trade Zone.
Benefits of UAQ Free Trade Zone Company Formation
Located in the proximity of seaports and two international airports (Dubai International & Sharjah International Airport)
Access to over 2 billion consumers thanks to its strategic location
100% company ownership
Complete exemption from corporate, personal and import & export taxes
100% repatriation of profits and capital in all currencies
Wide range of permitted business activities
Cost-efficient business solution for micro-businesses and SMEs
Hiring foreign employees is allowed
Offices and warehouses are available with hi-tech facilities
The registration process is simple and quick
Rules and regulations are according to international standards
Cost of Umm Al Quwain Free Zone Company Formation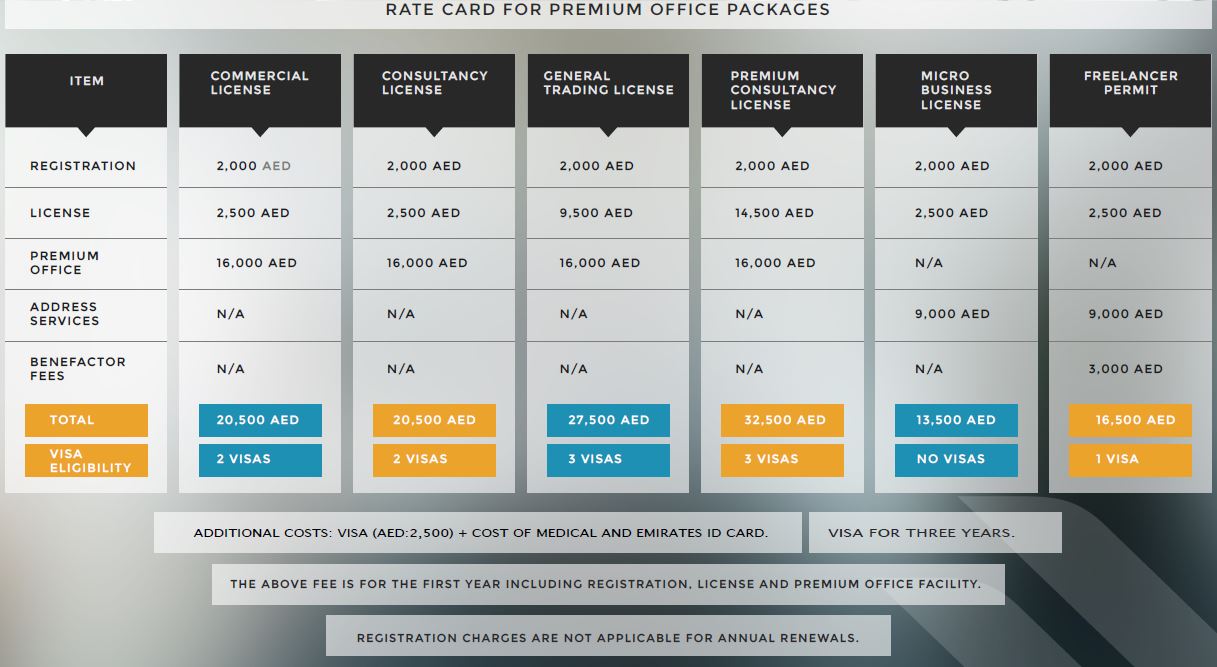 Documents Required for UAQ Free Zone
UAQ FTZ allows the establishment of FZC (free zone company, for 2 to 50 shareholders), FZE (free zone establishment, for single shareholder), and a branch of an existing company. FZC and FZE require the same types of documents while documents may differ in case of a branch of a company.
Passport copy of manager (for all businesses)
Passport copy of shareholders & directors (for FZC & FZE)
Shareholder's proof of address (for FZC & FZE)
Manager's proof of address (for branch)
Certificate of incorporation (for branch)
Memorandum and Articles of Association (for all businesses)
Board resolution and power of attorney (for branch)
Required Licenses in UAQ Free Zone
Following are the main types of licenses available in UAQFTZ for businesses. Companies have to choose one of the following licenses according to the type of their business:
Commercial License (for import, export and general trading activities)
Industrial License (for manufacturing of raw imported products)
Service License (for providing services like travel agency, car rental, logistics etc.)
Consultancy License (for providing professional advice)
Freelance Permit (for freelance professionals)
Why Choose RIZ & MONA CONSULTANCY
We have experience of more than 8 years for company formation in mainland areas and free zones across UAE
We provide a wide range of services from translation and attestation of documents to bank account opening
We will continuously assist you in handling issues after the formation of your company in UAQFTZ
Reviews
Save Time & Money
Rizmona is worth much more than I paid. Their team has really helped our business.
Company Formation
I'm good to go. I was amazed at the quality of rizmona. I would like to personally thank you for your outstanding services.
My Company Setup
The best business consultants! Great services, I will refer everyone I know.
Highly Recommended
Just tell them your requirements and consider it done. Best Business Consultants in Dubai.
Fast Response
I am amazed with the quality of work they have performed in a very short time. Highly professional team.
Value for money
We were treated like royalty, Great firm with highly skilled team. Thank You, Riz & Mona Consultancy.
Great Experience
It was a great experience, Thank you Rizmona team.
Quick Service
They have provided me a quick service for Company Setup in UAQ Free Zone.
Submit a Review