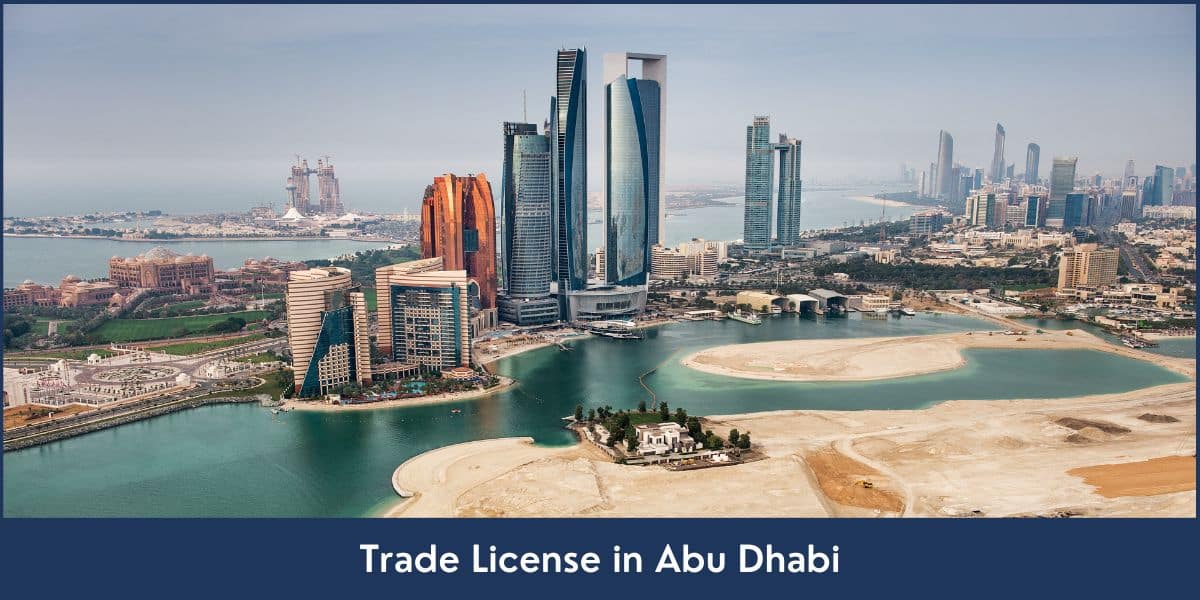 It is both the Middle East's fastest-growing and most stable market. Commercial and industrial enterprises call Abu Dhabi home. It is great for entrepreneurs looking to start a successful business in Abu Dhabi. 
This Emirate is the ideal place for establishing a business and starting a company. It is due to the government's efforts to promote bilateral ties and trade with different countries across the globe.
Abu Dhabi offers an extremely flexible and open method for establishing a business. It makes company owners choose Abu Dhabi as their next destination to conduct business. Business establishment in Abu Dhabi starts with obtaining a trade license. Without having a trade license in Abu Dhabi, it is illegal to start a business there. Let's find out how you can receive it in no time.
What You Need to Know About Trade License in Abu Dhabi
A business or company needs an Abu Dhabi license in order to be authorized to engage in commercial activities in Abu Dhabi. The Department of Economic Development (DED) is in charge of policing and directing the procedure of issuing the license.
Activities Allowed Under Abu Dhabi Trade License
There are certain activities that you are permitted to conduct once you have the Abu Dhabi trade license. Out of those, the following are some of the business activities you can do once you have the license:
Advertise your services and products to the masses

Export and import products or services with other countries

Participate in a variety of commercial activities and much more
We advise receiving assistance from a professional business setup consultancy in the UAE like RIZ & MONA if you are new to doing business in Abu Dhabi. We can help you obtain the trade license without any hassle. This will speed up the procedure and assist you in avoiding legal issues or cultural problems.
Things to Consider Before Applying for an Abu Dhabi Trade License
Here are some of the most crucial things that you must keep in mind when applying for a general trading license in Abu Dhabi:
Local Sponsorship
An Emirati service agent or the shareholders of a mainland business with foreign investment are called local sponsors. If you want to apply for a trading license in the mainland of Abu Dhabi, you must have a local partner. Additionally, you have to give a minimum of 51% of the stock in the business to your Emirati Local Sponsor.
Documents required for Trade name Registration
You are required to have the following documents to get a trade license in Abu Dhabi:
Copy of tenancy contract

Valid passport

Trade name application having a signature

A copy of the letter from a corporate bank that authenticates the company's claimed finances

Valid Emirates ID

Copy of your Memorandum of Association with said local sponsor 

Copy of the concerned people's signature attested by a local notary

Copy of naturalization certificate

Certificate of trade name

No objection certificates and Clearance certificates in the form of a letter from your local sponsor

Letter from the Ministry of Economy and Planning that verifies the business registration

A letter signed by the authorities approving proposed business activities 

Shareholders signed licensing form
Public Relations Officer Services
In Abu Dhabi, a Public Relations Officer's services are required in order to launch a company. Therefore, PRO services are activities connected to getting official attestation for documents and attestations from the government. The documents can include visa applications, labor permits, and trade licenses.
Business Setup Fees
In Abu Dhabi, setting up a business comes with very minimal costs. The cost is different in different economic zones. The breakdown is given below:
Mainland Fees
Following are some of the charges you have to pay to set up a business in the mainland of Abu Dhabi:
Visa Fees

Incorporation Fees

Legal Fees

Local Sponsor Fees

Legal translation fees, notary charges, or any other third-party taxes
Free Zone Fees
The charges you have to clear to set up a business in the Free zones of Abu Dhabi are as follows:
Visa Fees

Name Reservation Fees

Annual Licence Fee

Registration Fees

Share Capital
Different Types of Trade Licenses in Abu Dhabi
The type of business or commercial activity that you plan to conduct will decide the department for issuing a business license. You may obtain a business license from:
Free zone authorities such as the Media Zone Authority, Masdar, etc

The Department of Economic Development, 

The Higher Corporation for Specialized Economic Zones

The Department of Culture and Tourism
The types of trade licenses in Abu Dhabi are:
Professional License
A professional license is given to individuals whose careers are reliant on their scientific expertise, intellectual abilities, and academic performance.
Commercial License
A commercial license is mainly required in the UAE for setting up a business. Owners of businesses involved in healthcare, general trading, real estate, contracting, and transportation are granted commercial licenses. 
Industrial License
Starting an industrial business in Abu Dhabi can be a great idea. Owners of companies that manufacture products for making profit are granted industrial licenses. Company formation in Industrial City is a great example of it.
How to Get a Trade License in Abu Dhabi and Start a Trade Business? 
In order to give economic advantages to a businessperson and to meet the legal criteria of all relevant government authorities, there is a process that must be followed when starting a business in Abu Dhabi.
The legal specifications and conditions for obtaining a business license vary depending on the type of business activities. The main steps involved in starting the business and getting the trade license in Abu Dhabi are as follows:
Step 1. Category Selection
Find out your business falls under which of the available category. There are three categories to choose from:
Professional

Industrial

Commercial
Step 2. Choose the Business Activities
Decide on selecting business activities to register under the license. For one license, you can choose up to ten business activities from the list.
Step 3. Select a Trade Name
Then, you need to select a suitable trading name for your company. When choosing a name, you must follow pre-defined criteria.
Step 4. Initial Approval
Next up, you have to submit the completely filled application form to the relevant department for getting initial approval.
Step 5. Register Trading Name
Once you get your initial approval, you can now register your selected trade name. Approach the relevant government bodies for registering your business's trading name.
Step 6. Find Office Space
Then, you must look for a good office space in the mainland or free zone to set up your office and conduct your business. The best thing to do at this step is to lease a functional commercial space and reach out to the respective authorities to get permission.
Step 7. Paperwork and Documents
Collect all the required documents and submit them to the respective authority departments when required.
Step 8. Get Your Trade License
Finally, submit a new application to the government authority and pay the fees to issue the Abu Dhabi trade license.
Process of Trade License Renewal in Abu Dhabi
There exist a process of trade license renewal in Abu Dhabi. To renew your trade license, take the following steps:
Gather all the documents and submit them to DED

Wait till you get the approval

Get the fee voucher and pay the charges

Finally, get your hard copy of the renewed license from DED
Renewal Fees of Abu Dhabi Trade License
Trade license renewal in Abu Dhabi is very easy. The cost varies depending on the business activities and license type. Following is a breakdown of the projected renewal cost, which can be between AED 10,000 and AED 12,000:
Trade name registration charges

Ejari charges

Foreign company name

Government charges
Fine for Expired Trade License in Abu Dhabi
If your trade license in Abu Dhabi expires, you will be allowed to work for 30 days during which you can either cancel or renew it. However, if you still conduct your business after the time is finished, you will be responsible for the following fines:
AED 2000 in case of operating another office under one license 

AED 250 in case of failure to renew before the due date

AED 5000 in case of operating without a license
Punishment by UAE Govt For Repeated offenders
The fines that you or your business may face for an expired trade license are listed above. If you are a repeat offender, the UAE government may apply additional penalties. These penalties may be as follows:
Barring of re-entry

Blacklisting of a company

Canceling all visas under the license

Freezing of every asset

Chances of deportation
You don't want to put your business on a blacklist because that might, and probably will put an end to the business activities you plan to start in the UAE. This is why you should get in touch with business setup experts like RIZ & MONA. They can relieve you of the burden of managing the renewal of your Abu Dhabi trade license and make sure that all of your concerns are limited to running your company only.
Cancellation of Trade License in Abu Dhabi
There can be any reason why a businessman or entrepreneur would like to cancel their trade license. To cancel your Abu Dhabi trade license, follow the steps mentioned below:
Step 1: Send notice of termination to all your staff and employees 
Step 2: Get a letter acknowledging the license cancellation from your Board of Directors 
Step 3: List down the services of a liquidator
Step 4: Get a letter from the liquidator
Step 5: Go to Notary Public and attest the received letter
Step 6: Approach the DED (Department of Economic Development) to receive a company closing certificate
Step 7: Two local newspapers should be notified of your company's closure
Step 8: Wait for 45 days to see if anything objectionable comes up
Step 9: After 45 days have gone without objections, you can show the ad along with the final audit report to the Department of Economic Development
Step 10: Obtain the final approval of liquidators and shareholders
Step 11: Obtain a copy of the liquidation certificate and BOD resolution letter
Step 12: Submit the copies of letter and certificate to the Department of Economic Development
Step 13: Clear the voucher of the license cancellation fee 
FAQs – Frequently Asked Questions
What is a UAE trade license?
The UAE trade license is a legal document that specifies the kinds of operations a business is permitted to conduct in the United Arab Emirates. The Department of Economic Development is responsible for issuing each trade license. In Dubai, general trading licenses are valid for a variety of business activities.
Who issues a trade license in Abu Dhabi?
The Department of Economic Development (DED) is responsible to issue a trade license in Abu Dhabi. You must get in touch with them to get the trade license. Make sure to have all the required documents before submitting your business registration application.
How many types of trade licenses are there?
There are three types of trade licenses in Abu Dhabi:
Professional

Industrial

Commercial
How much does it cost for a trade license in Abu Dhabi?
The cost for a trade license in Abu Dhabi varies from case to case as the cost is dependent on the business activities and license type. You can contact any business setup consultants in the UAE to get a better idea of Abu Dhabi trade license cost and the factors that affect it.
What is an instant license in Abu Dhabi?
The instant license in Abu Dhabi is a special service that lets the residents and citizens of the UAE get a trade license without the requirement of a dedicated physical location of an office.
Get Your Trade License in Abu Dhabi with RIZ & MONA
That was all about the method to obtain a trade license in Abu Dhabi. You must participate in Abu Dhabi's rapidly expanding economy, now is the ideal time to take advantage of its limitless prospects. In Abu Dhabi, starting a business is a rather simple process. However, if you lack the necessary information, it could be time-consuming and difficult.
Fortunately, RIZ & MONA skilled business setup advisors are available around-the-clock to assist you with establishing your business in Abu Dhabi. To launch your company in Abu Dhabi, get in touch with us right away. We assist business owners in forming their companies smoothly.