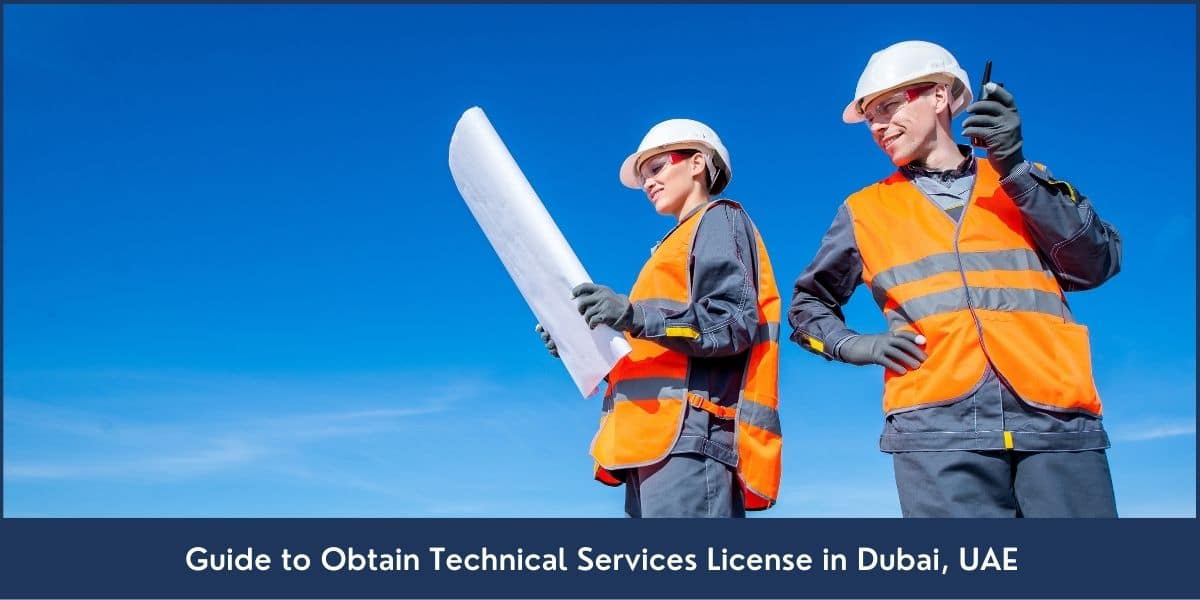 There is no better place than Dubai to set up your very own technical services company. It is true for some very good reasons. For example, a perfect geographical location as it connects the trading markets of Europe and Asia. But before you can start your company, you must have a technical services license in Dubai.
This is a kind of commercial license that is targeted specifically at mainstream business activities including concrete works, plumbing, painting, and many more. You can get this license for two zones of Dubai, the mainland and the free zone. 
Thinking of establishing your technical services business right away? Then this guide is perfect for you as it will cover the complete process of how you can acquire a technical services license in Dubai and get going with your company. 
So without any further delay, let's begin.
Activities Allowed Under Technical Services License in Dubai
The government of Dubai has made it permissible to perform a number of activities for owners of technical services license. These activities include:
Concrete works

Control apparatus installation and painting contracting

Air filtration system installation along with its maintenance

Full cleaning services of a building and mall

Satellite equipment installation along with its maintenance

Wall and floor tiling work

Carpentry and flooring contracting

Partition and false ceiling contracting

Ornamentation and engraving works

Wallpaper fixing

Insulation contracting

Sanitary and plumbing contracting

Electrical fittings and fixtures services

Air-condition and ventilation

Cladding and plaster works

Insulation contracting works

Ceiling contracting works

Electrical transmission and control apparatus installation

Electromechanical equipment installation
Advantages of Getting a Technical Services License in Dubai, UAE
Following are some of the remarkable pros of obtaining a technical services license in the city of Dubai that you and your company can benefit from.
No audit report is for this license.

No personal or corporate tax as it is 100% tax-free.

The license allows you 100% to repatriate your personal income and capital.

The legal process to obtain this license is very easy. Furthermore, you can set up your technical services company without any hassle.

You are allowed to offer services to any company in any part of the UAE.

You can choose an office space wherever you want in Dubai.

You can work in the local markets of Dubai.

You are eligible to apply for government projects

There is neither a capital requirement nor any currency restrictions (This benefit is for mainland technical services license holders only)

You can acquire any number of work visas.
How to Get a Technical Services License in Dubai, UAE
It is extremely straightforward to obtain a technical services license in Dubai, UAE. You can achieve it in just a few simple steps. Follow this route to obtain a technical services license in Dubai in no time:
Step 1: Decide On a Mainland or Free Zone License
First of all, you have to decide on an economic zone for your company. Both of the jurisdictions have their own pros and cons along with unique specialties. You may want to consider the demands and preferences of your business when deciding on jurisdiction.
The free zone route offers tons of benefits that are quite fruitful for businesses. These advantages include repatriation of 100% of profits, no currency restrictions, 0% tax rate, full customs tax exemption, and various other positive aspects. A free zone company is not allowed to trade directly with the UAE market. But there are many other options which you can explore to do trading locally in the future.
Alternatively, a company setup in the mainland economic zone enables you to trade with the Emirates market and lets you bid for enormously lucrative government projects and contracts.
Step 2: Select Your Company Name
Once you have chosen an economic zone, the next thing you have to do is to choose a company name. There exist some rules and regulations imposed by the Government of the UAE when it comes to picking up a name for the company. You must abide by these rules or else your name will not be registered by the relevant authorities. You may reach out to well-known company formation experts like Riz and Mona Consultancy to know more about the do's and don'ts of choosing a company name.
Step 3: Assemble All the Required Documentation
Before you submit your technical service license application, you should gather and ready all the necessary documents and official papers. All of the issued requirements are pretty easy to fulfill. You will be needing the following documents to get:
MOA (Memorandum of Association) notarized at a Dubai public notary

Your fully filled application form

Two passport size photographs

A copy of the passports of the company owners

NOC (No Objection Certificate) from current employer, if applicable
Step 4: Make Your Technical Service License Application
Those who are opting for the mainland option can safely apply to the Department of Economic Development (DED) for the issuance of a technical service license. Business owners who are taking the free zone route need to apply directly to the authorities of the selected free zone. Just make sure that there are no errors in your license application during the time of submission or you may suffer from some potential delays. 
Start Your Technical Services Company in Dubai with Riz and Mona
Ready to open your technical services company in Dubai? Get in touch with us and we will take care of the complete process of company formation. We will look after all the details and ensure your application is free from any kind of errors. Book a free appointment now and kickstart your technical services company without wasting your time anymore.