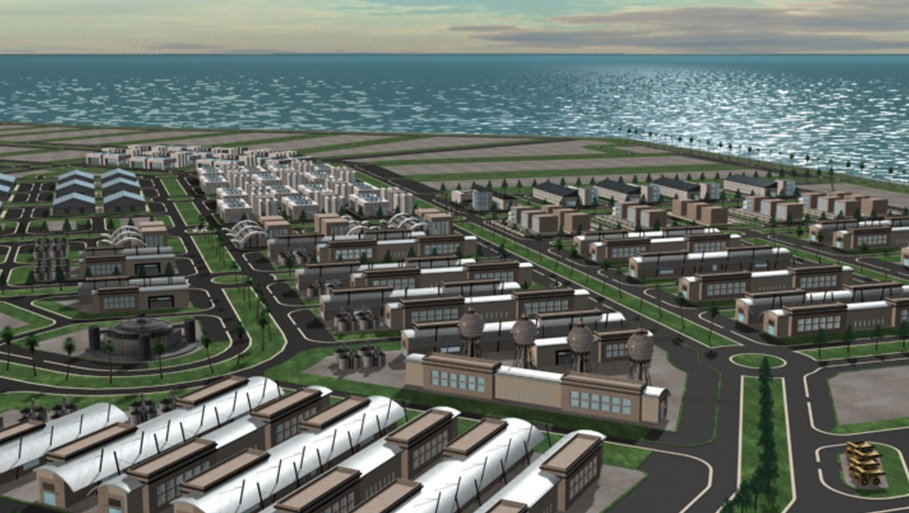 In total, United Arab Emirates incorporates 7 different emirates. Amongst all of them, Dubai and Abu Dhabi are the most famous for the purpose of living as well as doing business. When it comes to Dubai, it is known for its enormous skyscrapers and human-made islands. While Abu Dhabi is well-famous for hosting all the top-level sports events like the Formula 1 race. The Gross Domestic Product (GDP) of Abu Dhabi in the year 2014 was approximately euro 2,4 trilion AED, which makes up to 960 billion converted to the prices in present.
The Industrial City of Abu Dhabi (ICAD) is known to a well-planned region that has been built and still running on the highest levels of technological advancements. To be precise, the Industrial Coty of Abu Dhabi is situated in the suburbs of Abu Dhabi, expanded on an area of 40 sq. km. ICAD incorporates a range of different clusters to set up an industrial business, as ICAD provides the highest level of business opportunities for manufacturing and industrial firms. ICAD registered businesses, regardless of any sector, are benefiting from great transport connectivity, top-level infrastructure and outstanding facilities of communication. The strategic location of ICAD between the emirates of Dubai and Abu Dhabi sums up for most of the advantages in the region. The outstanding policies of ICAD which are flexible as well as cost-effective, paired up with easy procedures of company formation is what appeals to international clients in the city. The flourishing technological environment provided in ICAD contributes and supports the growth of already existing and new companies in all sectors in ICAD.
Industrial City of Abu Dhabi's outstanding facilities of transport, communication, and networking are made possible by storage, logistic hubs and developed roads that make the reach to airports and ports fairly easy ad convenient. The market of the Industrial City of Abu Dhabi can be reached through the sea as well as land and incorporates around 200 air routes from both the emirates, Abu Dhabi and Dubai. All the technological and environmental development factors that make ICAD an ideal location for setting up industrial and manufacturing businesses are the same factors that attract international clients looking to set up different industries ranging from heavy and light.
Benefits Of Setting Up Business In Industrial City Of Abu Dhabi (ICAD)
One of the reasons for the continuous boost in both the manufacturing and industrial sector of ICAD are these benefits provided in the city:
Situated on a prime location on the outskirts of Abu Dhabi
Advantages from utility connections
Incorporates the most advanced means of communication networks
Convenient links of transport to Asia, Europe, and the Middle East and North Africa region (MENA)
Exemption from all taxes
Exemption of customs duty on all exported and imported goods
Easy access to business permits, licensing and employment visas
Freedom of foreign ownership
Total repatriation of capital and profits
Industrial Clusters In ICAD
Every cluster incorporated in ICAD possesses equal world-class facilities of infrastructure, reliable utility and communication networks. ICAD also provides a number of entry points and free-flowing junctions on roads that are fully developed, as well as logistic hubs and storage that makes easy and quick accessibility and reach to airports and ports of Abu Dhabi. These are the clusters that exist in ICAD:
General industries
Engineering and Metals
Oil and gas services
Chemical and plastic
High-tech industries
Construction materials
Advanced factory units
ICAD Zones
As of right now, ICAD possesses more than 355 manufacturing companies, which gives employment to more than 30,000 employees. ICAD right now incorporates 5 different industry zones or clusters. Which are:
ICAD I: Which includes medium-heavy manufacturing, engineering, and processing companies. The area of ICAD is stretched over 14km sq.
ICAD II: Includes medium-light engineering, manufacturing, and processing industries.
ICAD III: Includes light-to-medium processing and engineering industries which focus internationally. Construction materials, wood processing, and engineering, chemicals and plastics, food, textile, and high-tech industries are the sectors which are targetted on in this zone.
ICAD IV: Light-manufacturing and technology-based industries.
ICAD V: Automobile or automotive manufacturing-based industries
Step-By-Step Of Setting Up A Company In Industrial City Of Abu Dhabi
Choose the economic activity
The first and foremost thing to set up a company in the Industrial City of Abu Dhabi is to determine economic activity. This is a requirement of the Department of Economic Development of the emirate of Abu Dhabi in order to set up a company.
Determine the legal form of the company
What comes second after determining the economic activity of the new business is defining the legal form of the company to be set up. The legal form can be different of every company, as it depends on the business nature of every company being set up.
Register the name of the business
Once the steps mentioned above are done with, the time comes to register the chosen name of the company that resonates with the nature of the business. It is considered as one of the most important steps of setting up a business when it comes to choosing the name of the business before an initial approval is obtained.
It now comes down to obtaining initial approval. Once the company's name is chosen and registered and a trade name certificate is obtained, proceed to the next step of securing initial approval from the Free Zone Authority.
Secure approvals from authorities
The initial approval will just be the start, what follows is acquiring approvals from all the relevant and concerned authorities along with fulfilling all the legal terms and conditions.
The last, but most definitely the most important step of setting up a business in ICAD is securing a business license for conducting the company's business activities. One of the most important steps is to choose carefully from amongst the different types of industrial licenses.
Setting up a company in any part of UAE has been made fairly simple and convenient for people around the globe, but it is still advised to consult a business professional in relevant emirates for any guidance, professionalism or help needed.