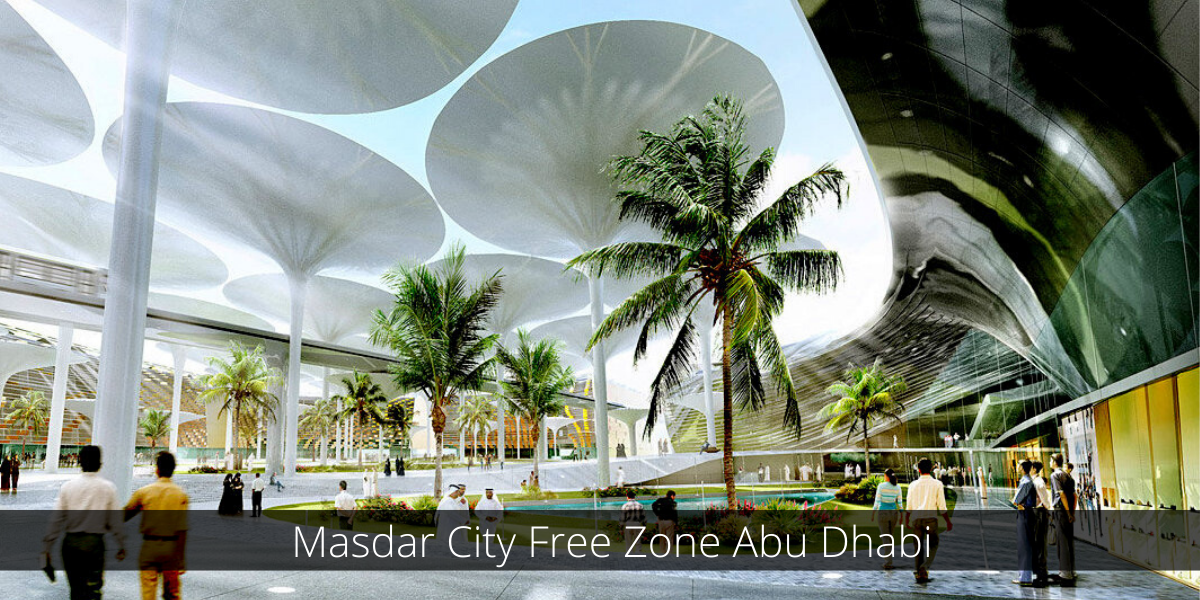 Masdar City is a unique free zone in Abu Dhabi that focuses on green energy and clean technology. It is located in the vicinity of Abu Dhabi Airport and at a distance of 17 km from Abu Dhabi downtown. This specific free zone, with an area of around 6 km2, is declared by fDi as one of the best free zones for R&D partnerships, large companies, and startups.
Masdar City Free Zone provides several incentives to corporations in order to provide freedom of business to them. Companies in Madar are provided with liberal investment rules, modern infrastructure, and the best facilities in order to assist them in the easy development and commercializing of their technologies.
This free zone is most favorable to companies related to renewable energy. The whole city runs on renewable energy sources especially solar energy. It is supported by global organizations like Greenpeace, World Wide Fund for Nature and BioRegional. Currently, there are more than 400 companies operating in Masdar City. A few important ones are International Renewable Energy Agency (IRENA), Mitsubishi Heavy Industries, Siemens, Gulf Green Environmental and others.
Benefits of Masdar City Free Zone
100% foreign ownership
Exemption from corporate tax, personal income tax, and import tariffs
Availability of complete repatriation of profits and capitals
Licensing process and office space are extremely cost-effective
Present in the vicinity of Khalifa City, Yas Island, Abu Dhabi International Airport and Dubai.
Easy to contact local, regional and international markets
One of the world's most beautiful and clean working and living environment
Quick, simple and one-stop shop registration and visa processing
Freedom to hire staff from any country
Companies registered in Masdar City can open company branches outside the free zone.
A person can be involved in an unlimited number of businesses.
There is no minimum capital requirement for setting up a branch in Masdar City.
Business Entities in Masdar City
Following are the types of business entities allowed in Masdar City Free Zone:
Limited Liability Company (corporate shareholder)
Limited Liability Company (natural shareholder)
Branch of a UAE/foreign company
Masdar City License Cost
There are three types of license packages available for businesses in Masdar City Free Zone
Startup package (allows 2 business activities) – AED 10,000 license fee
Mid-range package (allows 5 activities) – AED 15,000 license fee
Wide-range package (allows 10 activities) – AED 20,000 license fee
Types of Business Categories
The license in Madar City is issued for a large number of business categories. Almost all types of businesses are allowed in Masdar City if they are not harmful to the environment. Following are important types of businesses that receive a business license in Masdar City.
Cleantech & ICT
Renewable Energy
Healthcare Services
Community Services (food & beverages outlets etc.)
Energy Industry
Trading & Holding Companies
Marketing & Events
Service Providers
HR Development
Types of Business Premises
Companies can own business premises in Madar City according to their requirements. There are three options available for company location in Masdar City Free Zone.
Ready to go business centers (include flexi desk, workstation and executive office)
Shell & Core (commercial office/retail space)
Design Contract Lease (long-term lease with Masdar to provide building according to your office requirement).
We at RIZ & MONA Consultancy can assist you in completing the whole registration process and formation of your company smoothly and conveniently. Contact us for further guidance.