The main factor behind growth and progress of Dubai is the presence of large number of opportunities for entrepreneurs, investors and professionals. Since past several decades, Dubai is aggressively on the path of attracting more and more foreign investment through incentives provided to businesses. Today, Dubai is regarded as one of the world's best places to start a business. An important area that provides lots of opportunities is business formation in free zone entity. Currently, there are more than 45 free zones in UAE while over half of them are present in Dubai.
These free zones provide several advantages to companies and professionals for setting up their business here. 100% ownership, tax free business (in most of free zones) and 100% repatriation of profits are few of these advantages. But if you are interested in starting your business in any of the free zones in Dubai then you must choose the best one if it proves suitable for your type of business. In this regard, the internationally accepted best free zone of world is DMCC (Dubai Multi Commodities Centre).
Businesses in DMCC
DMCC was established in 2002 by the government of Dubai in order to transform Dubai in to a hub for global trade of commodities. This has proved to be an important step towards making Dubai as an international trade-friendly city. DMCC is especially known for trade of agriculture products (tea, coffee, spices etc.) and precious stones (gold, diamond, pearl etc.). But this free zone is not confined to these commodities. It is not only providing business opportunities to traders related to large number of other commodities but there is also lot of scope to other types of business as well.
Why to choose DMCC
Since its establishment in 2002, DMCC is continuously on the path of success. Current position of this free zone proves that it has very much achieved its target and is continuously growing further with the passage of time. Following statistics will make you understand the growth that DMCC has achieved so far in various sectors.
Dubai is one of the world's largest gold and diamond market thanks to DMCC. More than $75 billion worth of these precious metals are traded in Dubai
Every year, the DMCC Tea Centre handles around 53 million kilos of tea. This constitutes large amount of tea trade on global level
There are 66 residential and commercial towers present in DMCC to accommodate large number of related companies. More than 92,000 people are living and working in these towers
Currently, more than 15,000 companies have registered themselves in DMCC in various commodities and non-commodities' sectors. These companies have employed more than 60,000 workers. There is also presence of world-renowned companies in DMCC including Pepsi, Colgate-Palmolive, Daewoo, Duracell, Whirlpool, British American Tobacco and several others
All these companies are from various parts of world. Around 170 countries are represented through these companies. It proves the acceptability of DMCC all around the globe
DMCC is an undisputed best free zone in the world. It has achieved this status in three consecutive years (2015 to 2017). This award is given by Financial Times' fDi Magazine
Average annual growth rate of DMCC in the last decade remained above 30%
DMCC is constantly improving its activities and also assisting the incorporated companies to grow their businesses with the organization of several local and international events annually. These events are related to the type of business activities conducted in the free zone. Few of these events include: Dubai Tea Forum, Dubai Precious Metal Forum and Dubai Diamond Conference
DMCC Achievements in 2017:
As we already know that DMCC is getting the award of world's best free zone on consistent basis. It surely means that the free zone is constantly improving every year. This is also stated by fDi editor-in-chief that DMCC remained unique and performed best despite tough competition. The main reason behind presenting the award of best free zone for third year in a row (2015, 2016 and 2017) is the adoption of latest technology in its business approach.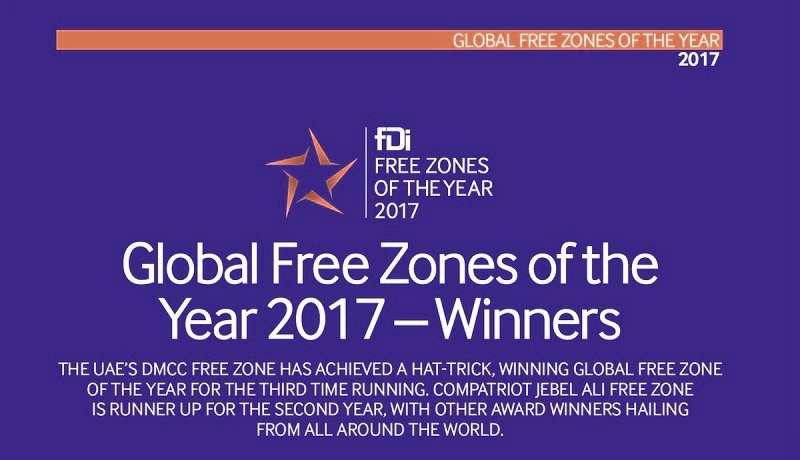 The highlight of previous year 2017 will be helpful for traders, investors and entrepreneurs to determine recent progress of DMCC free zone. It will assist them decide about the prospects and potential advantages of setting up their business in DMCC.
In last year 2017, 1980 new companies were registered in DMCC. It means the average rate of registration is 7 companies per day
Not only new companies are establishing quickly but there are others that are retaining their place in DMCC. In 2017, the client satisfaction level was recorded at 82% that helped in achieving the client retention level of 86%
Handling of around 52.4 million kg of tea through DMCC Tea Centre. In previous year 2016, the amount of tea handling was just 41.6m kg. It means this increased by around 11m kg in just one year
A new coffee center is expected to handle 20,000 tons of green coffee bean annually. This DMCC Coffee Centre will start its operations from late 2018
As compared to 2016, DMCC recorded 33% increase in trade flow. Total 13,793 Murabaha transactions with value of AED 80 billion were recorded during this period
Signing of 12 MoUs (memorandum of understandings) of various business structures from departments of various countries. These include MoU with Yunnan State Farms & Mega Capital Halal for trade of Chinese Arabica coffee beans, agro-based MoU with Cropdata India and collaboration with Trans-Atlantic Gem Sales (TAGS) for diamond trade
DCCC (Dubai Commodities Clearing Corporation) was recognized by European Securities & Markets Authority (ESMA). This will increase credibility of DMCC in the European market and enhance trade on global level
Launch of a multi-lingual website in March 2017 that presented the message of DMCC around the globe. The traffic of this website has increased around 50% since its launch
These are just few of several achievements that are acquired by DMCC only in 2017. It clearly indicates advancement of this specific free zone in just a single year and highlights the reasons behind its reputation among traders, investors and business organizations alike. These facts provides clue about the consistent good performance by DMCC that took this free zone to top at the list of world's best free zones in last 3 consecutive years.
If you are a trader, company owner or investor and wants to establish your business in UAE, then it is worth to think seriously about setting up company in DMCC. After taking that decision, you can make the whole registration and licensing process convenient by contacting Riz & Mona Consultancy. We have already registered several businesses in DMCC successfully as we have been in this field since past several years. You can easily contact us through our WhatsApp # 971-56-9971225 or email address info@rizmona.com.