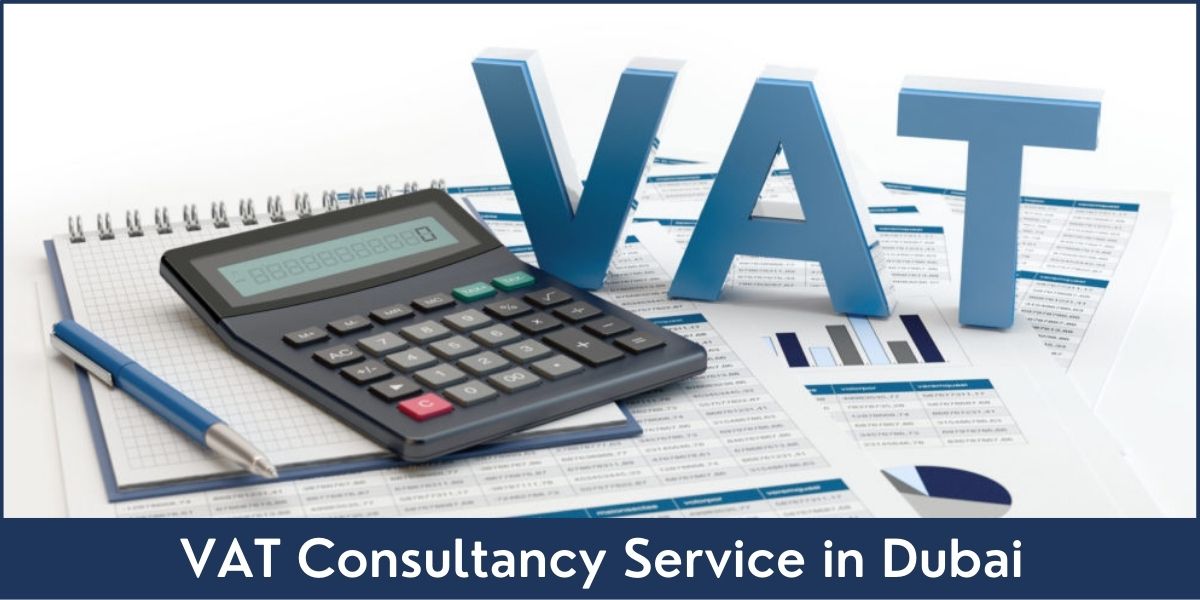 Value Added Tax (VAT) is one of the most common types of indirect tax applied in most countries. The United Arab Emirates and Saudi Arabia have already implemented VAT effective 1st January 2018 and other GCC countries are expected to implement it in the near future. The value-added tax rates are 5% (standard rated) and 0% (Zero-rated) at the moment. The VAT is an expense that applies to the use of all administrations and products.
What is VAT?
VAT is a type of consumption tax that is levied on the use/consumption of goods and services. VAT falls in the category of indirect taxes and currently, it is employed in more than 180 countries around the globe. It is charged by business entities or individuals that are registered for VAT, on account of supplies of goods/services to customers in the normal course of their business operations. VAT is levied at each stage in the supply chain. It is the end-consumer of the goods/services that bear the VAT cost. VAT registered businesses act as agents of government and therefore they first collect and then they account for the collected tax on behalf of the government.
VAT Services in Dubai
With global VAT requirements being different in different countries, and with regulations being changed frequently, not only are the consultants, at Riz & Mona Consultancy, fully updated on these changes, we provide VAT consultancy services with practical support for your business in Dubai.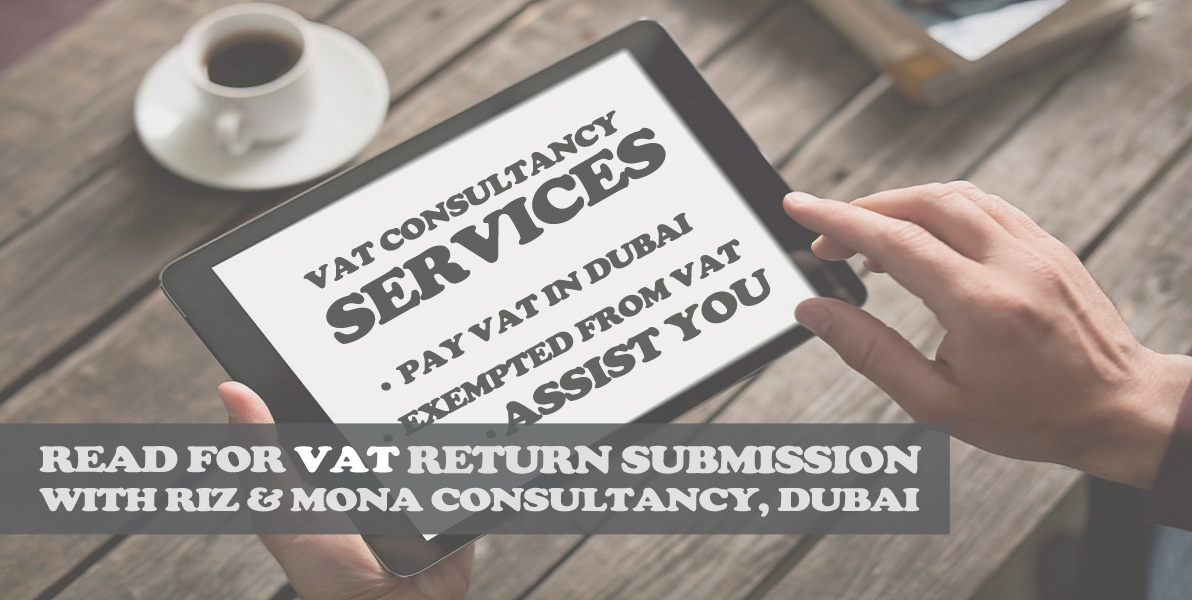 We understand the business complexities ranging from accounting, taxation, and VAT services. We provide the best VAT consultancy services in Dubai, which include:
VAT compliance and control
Filing and payment
Data recording and management
Accounting
Supplier management
Customer management
How VAT works in the UAE?
VAT is charged on business transactions involving the supply of goods and services to customers. The VAT registered businesses charge VAT by adding them to the number of goods/services that are provided to the customers for either business or personal use. The businesses that are registered for VAT in the UAE have the right to reclaim VAT paid to suppliers on goods purchased or services received for business purposes. The difference between VAT charged to customers and VAT charged by suppliers is reclaimed or paid to the government by the business entity. It will be implemented in almost all goods and services apart from food items, healthcare, and education. At the start tax rate is very nominal i.e. five percent. End-user is mostly affected by the implementation of tax however business setups have to make certain changes to the process and procedure to comply with the legal requirements implemented by the government.
All businesses with annual revenue of Dh 375,000 or more are required to submit their VAT registration online applications within 30 days of being required to be registering. As per the regulatory Authority Federal Tax Authority Registration (FTA), all businesses in UAE must ensure the recording of their financial transactions, apart from that VAT registration requirements have done, and ledgers are updated in time to avoid penalties.
Eligibility for VAT Registration in Dubai
The VAT is relatively a new tax; however, the government has made important progress in clarifying and helping those who need to register for this tax in the Emirate. VAT registration is optional for new companies; however, it can become mandatory under specific conditions. Below mentioned are the entities which are required to apply for VAT registration in Dubai:
companies selling and/or importing goods and services exceeding 375,000 AED per year are required to register for this tax;
foreign companies selling VAT-taxable goods and services in Dubai are required to register for this tax.
Dubai companies registered for VAT will impose and collect the tax from the final consumer and will pay it to the government. For this purpose, businesses must file VAT returns which will enable them to recover the amount paid as a VAT. It is useful to know that foreign companies registered for VAT in Dubai can also claim refunds here.
If you want to open a company in Dubai, you can opt for VAT registration from the beginning and our advisors can help you.
Required Documents for VAT Registration
One of the most important requisites to meet when applying for a VAT number in Dubai is to have a tax identification number. This is obtained together with the Certificate of Incorporation and is issued by the Trade Register in Dubai. Based on the tax identification number, a company will be issued a VAT certificate.
There are several documents that need to be prepared when registering for VAT in Dubai. Among these are:
 the company's business license
passport of the owner and other shareholders
proof of the registered address of the company in the UAE
information about the corporate bank account (IBAN included)
an income statement for the last 12 months (where available)
information about the import-export activities of the company (where applicable)
Even though VAT registration can be completed online through the Dubai Government's online portal, but due to the extensive list of documents to be filed and the requirement of creating an online account, the procedure can be rather difficult for business owners. Our specialists can help you with this procedure.
Who will Pay VAT in Dubai
Companies and corporations with annual revenue of equal to or more than AED 375,000
5% VAT will be applicable on all the non-essential commodities and consumers purchasing these commodities will pay VAT. VAT will be applied separately from an excise tax that is already in effect on tobacco, energy drinks, and soft drinks
All the commercial tenants will pay tax. This include shops, offices, etc
Sales of commercial properties are subjected to a standard VAT rate
VAT will be applied to goods imported to Dubai. In case of products for re-export, VAT will only be applied once in the final destination of goods
Who will be Exempted from VAT
Purchase of all the essential products including food products, medicines, educational commodities, etc. is exempted from VAT
VAT will not be applied to businesses that provide essential services like education, health, etc
There will be no VAT on the residential tenant contract
Selling of newly constructed homes is also exempted from tax
Reduced VAT rates in Dubai
The following goods and services benefit from a 0% VAT rate:
exports;
international transportation services;
aircraft and sea transportation services;
investments in precious materials;
the supply or residential properties;
education services;
healthcare services.
In order to collect the VAT, Dubai companies will be required to register with the tax authorities.
VAT will provide the UAE with a new source of income which will be continued to be utilized to provide high-quality public services. It will also help the government move towards its vision of reducing dependence on oil and other hydrocarbons as a source of revenue. With companies conducting business with multiple parties across the globe, it becomes a challenge to manage the changing VAT obligations. It becomes imperative to engage a VAT services expert who can guide you in all VAT jurisdictions.
How we can Assist
Riz & Mona Consultancy has an experienced taxation team that can assist you in all the aspects of VAT in Dubai and in other emirates of UAE. The new VAT system has changed the whole scenario of business. VAT is different from GST as it is applied to the whole supply chain of a business that affects the overall product price, its cost, and procurement. It demands the overhauling of the current financial, accounting, and IT structure of any business.
In this case, a perfect consultancy firm with a solid background can help you get through all these emerging problems. You can fully trust us to overcome all the issues related to VAT in Dubai.