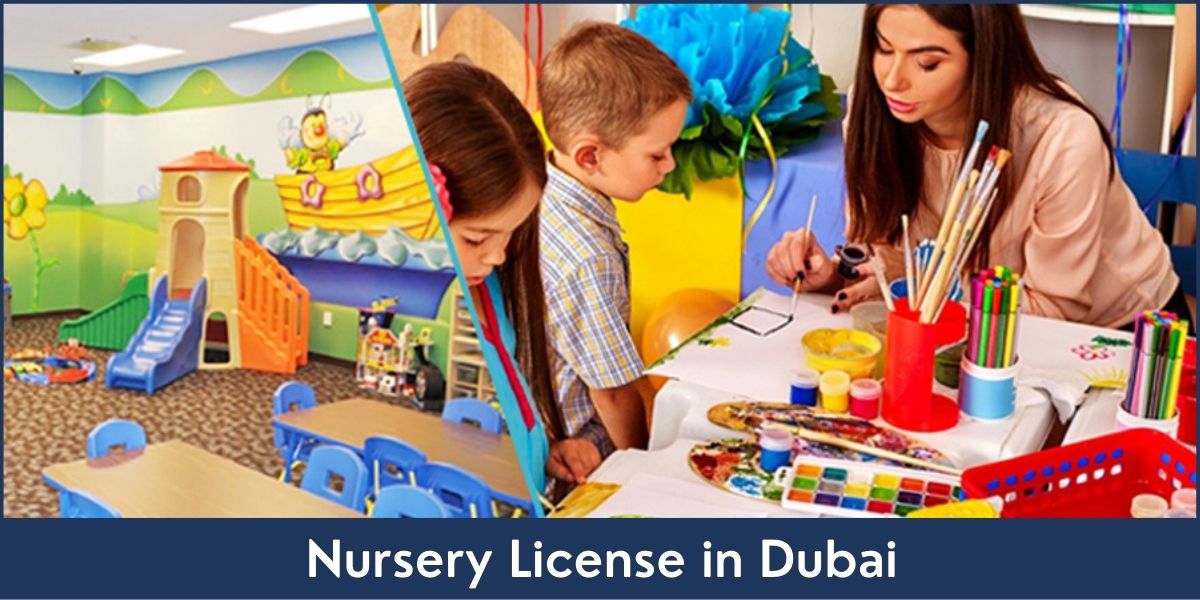 A Nursery or Play School is a physical location where individuals can leave their children while they are busy in their work in the daytime. It is like an institute that takes care of children and also provides them food, games, etc. during the allotted time.
Nursery Business in Dubai
As the population is continuously increasing, so there are more chances of growth of this business in the future. Apart from new residents, now even already settled people are sending their children due to their high-quality care and education.
Rules to Follow for Nursery in Dubai
Below are general rules that must be followed by every nursery in Dubai.
Only a person with UAE nationality can own a nursery.
In the case of a free zone, a foreigner needs a UAE national as a partner of his/her nursery business.
There is an age limit (45 days to 4 years) for children to be enrolled in a nursery.
Police Clearance Certificate is necessary for the owner and manager of the nursery.
Approval from the Ministry of Social Affairs is necessary before drafting a lease agreement.
Approvals from the Ministry of Education, Dubai Municipality (DM), and Civil Defense are also required.
Nursery can't be established in industrial areas and labor housings.
The nursery can only be situated either on the ground floor or the first floor of a building.
Children younger than 18 months should be on the ground floor.
Firefighting equipment is mandatory for every nursery.
You will submit three names (with Arabic translation) for nursery to the Ministry of Social Affairs.
Nursery in Dubai Mainland or Free Zones?
You can set up your nursery either in Dubai mainland or any of the appropriate free zones inside Dubai. In the case of the Dubai mainland, the main authority to handle a nursery license is the Ministry of Social Affairs. On the other hand, the main licensing authority for setting up a nursery in Dubai free zone is KHDA (Knowledge and Human Development Authority).
How to get a Nursery License in Dubai?
There are several steps to clear all requirements in order to ensure the safety of small children. You need to submit several documents to relevant departments.
Documents required for Nursery License
Following are important documents that you will need to submit for a nursery license in Dubai.
Nursery License application
Passport Copy
A photograph of the owner
Educational certificate of the owner
Police clearance certificate
Address and location map of the proposed building for nursery
Undertaking letter in Arabic for the appointment of UAE national as manager
Steps for obtaining Nursery License
The first step is to seek approval from the Ministry of Education. In this regard, you will submit all the important documents. A meeting with representatives of MoE is also necessary during this step.
The second step is to take approval from Dubai Municipality and Civil Defense. This approval is related to the building and location of the nursery. You will submit relevant documents to these departments.
The last step is to obtain a license from the DED (Department of Economic Development). During this process, you will also require to: Apply for a work permit, Provide information about your nursery staff, and get approval for the advertisement of your business.
Renewal of Nursery License
Nursery License is valid for one year in Dubai. You will require license renewal on an annual basis. Delaying this process can result in hefty fines.
Cost of Nursery License in Dubai
The cost of a nursery license in Dubai may differ according to your business destination. As you need to take approvals from various government departments, so there will be separate fees for all these departments. Apart from that, there will be a cost for the preparation of several documents.
You can minimize your cost by contacting a company that provides services for all these tasks. We at RIZ & MONA Consultancy can assist you in completing this whole procedure of obtaining a nursery license in Dubai at a competitive cost.