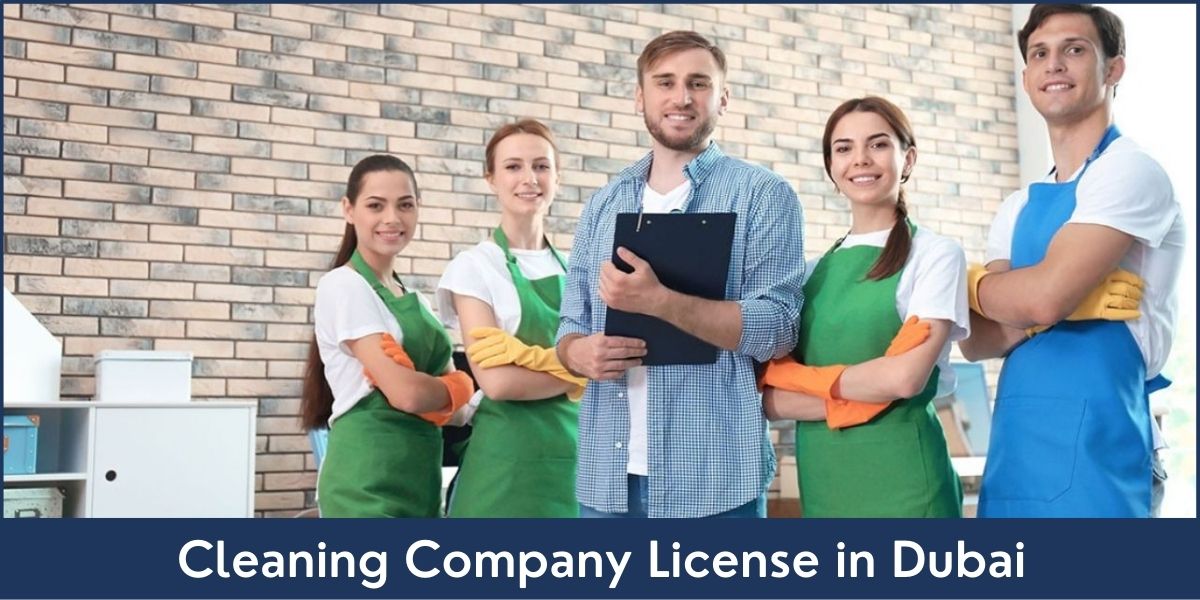 Dubai is home to a variety of companies and industries that play a significant role in the country's economic development. With a broad domestic market, Dubai has numerous business opportunities for international investors and foreign entrepreneurs who are willing to deliver new products and services by starting up their businesses. By starting a cleaning company in Dubai, you can enter and capture your position on the mass market by offering efficient, high-quality, and skilled cleaning services.
Setting Up A Cleaning Business in Dubai
If you are looking to start a business in Dubai with low overhead costs (minimum upfront costs), a total lack of traditional operational costs, and high demand, then you should consider learning how to start a cleaning company in the UAE. Cleaning companies typically have lower start-up costs than other company set-ups, and this company is one of the few companies that can get into action directly after it is launched. Yet you're going to have to work incredibly hard to make modest profits.
No specific cleaning chemicals and equipment or some form of formal training or qualification are required for a cleaning service. Many cleaning jobs would use the same products and techniques needed to clean the household. But that doesn't mean it's not easy to clean. If it were simple, there would be no such high demand for cleaning services in Dubai! And it's a very lucrative and rewarding business for young entrepreneurs who have an impeccable work ethic and excellent communication skills.
There is a massive opportunity for companies providing professional cleaning services to businesses, stores, malls, and other industries that frequently need them. In order to offer quality services at competitive rates, you should create a high demand for your services from both individuals and businesses. In addition, there is a wide variety of sub-business activities that can be carried out by setting up a cleaning service company in Dubai. It's always useful to have some contacts in the cleaning services sector of the UAE, but if you don't have any contacts and starting a cleaning business from scratch don't worry because it's still possible to start a successful cleaning company in Dubai. At the end of the day, delivering high-quality services that leave your customers happy and satisfied are the keys to a prosperous and profitable cleaning company.
Steps for Setting Up A Cleaning Company in Dubai
There are a few things to tick off before applying for your business license.
Step 1: The first is to choose the name of the company. Bear in mind that the UAE has a very distinctive set of naming conventions that you will need to stick to. Your company name, for example, should not contain any derogatory or blasphemous words or refer to known organizations or corporations. If you want to use your personal name in your company name, it must be in full — no abbreviations or initials. You must also verify if your chosen business name is available for registration. This can be provided to you by a company formation specialist as part of the license application process.
Step 2: With your company name selected, you now need to determine if you want to set up in a free zone or on the mainland. If you want to set up on the mainland, you will benefit from being able to deal directly with the local market and will be eligible to enter into potentially profitable government contracts. Free zone companies, on the other hand, benefit from low start-up costs, a 100% exemption from customs duty, and zero currency restrictions. Moreover, unlike many other countries, UAE free zone business owners do have complete freedom to repatriate all accumulated capital and income. There are also no foreign exchange caps or currency limits in place.
Step 3: The final step before making your license application is to decide on the cleaning activity you wish to undertake. There are three popular options in Dubai:
Industrial cleaning: Choosing an industrial cleaning operation is considerably more prominent as the sector is massive while it requires more labor and powerful machinery for high-performance cleaning. While operating in this sector, you need to have a significant workforce to handle large-scale cleaning contracts which include cleaning of factory floors, warehouses, complex machinery areas, and other essential paths.
Commercial cleaning: Commercial cleaning companies tend to be specialized and highly skilled. The commercial cleaning sector includes undertaking cleaning contracts for particular places and commercial locations such as shopping centers, malls, business centers, and other vital facilities. Getting into this sector is considerably difficult as it has heavy competition and requires your business to have experience.
Residential cleaning: The Residential cleaning sector is perfect for undertaking cleaning contracts from residential properties such as houses, apartments, villas, gated-community houses, and flat structures. Choosing this area of operation, you need to have a small team of helpers who can assist you in offering cleaning services to your clients. Starting a residential cleaning business in Dubai is a popular choice as it can be taken on by an individual or small team.
Step 4: Get a professional license from the DED mentioning the type of activity that your company wishes to deliver as a service. There are different types of professional licensing based on the kind of activity such as;
Cleaning Services
Aircraft Cleaning
Sewage and Cleaning Services
Motor Vehicle Repairing
Laundry
Step 5: After acquiring the license, you need to hire employees for commencing your business operations. As a next step, you need to buy all the necessary equipment for cleaning such as mops, dusters, vacuum cleaners, specialized cleaning liquid solutions, supporting materials, and other specialty equipment according to your operational requirements.
Applying for Your Cleaning Services License
You can now apply for your trade license with these choices. The type of cleaning you wish to do will decide the type of license you need to apply for – i.e. a license for an industrial cleaning company, a license for a commercial cleaning company, or a license for a residential cleaning company.
The application process is identical whether it is set up in a free zone or on the mainland. In both cases, a company formation consultant can help you with this process, even going so far as to handle the entire application process on your behalf.
Whether making your application yourself or through a company formation agent, you are usually only required to provide a few details and some basic documentation, including:
Completed application form.
Passport copy of the proposed owner or owners.
Two-color passport size photos.
As well as applying for your business license, you can also apply for your visa and those of your employees should you need them. It's also possible to sponsor the visa applications of your dependant family or any domestic staff that you may have.
Finally, you'll need a corporate bank account in order to start trading. Again, a company formation expert can help you with this step, putting you in touch with the most suitable financial institution for your business needs.
Cleaning Services License Cost
The cost of a cleaning business license is very dependent on the size of your business and the type of license you apply for. In most cases, however, start-up costs are usually low.
What We Can Do?
The cleaning business in UAE is always striving with good companies providing the efficient service required to have the cleanliness in the environment that a person or corporate resides. It is vital for the cleaning business to effectively market itself as it is a necessity to stand out from the competition as a newcomer to the industry.
In order to set up a Cleaning & Maintenance Services Company in Dubai, we at Riz & Mona Consultancy have qualified business setup consultants who excel in catering to all your business needs. We will help you to obtain a cleaning license with the right combination of business practices according to your company's needs. Please contact us for any business question set up today-we will be happy to assist you!