There are numerous things that make Dubai unique among other business-friendly jurisdictions. There are people from all parts of world and of different financial positions in this city. The attitude of Dubai is also very friendly and business-oriented towards all types of nationalities. All these and other factors make Dubai a hub of business opportunities for such activities that can become possible in developed world. An important business activity that is constantly gaining popularity in Dubai is the daycare centers.
Like most of other developed cities, lots of families in Dubai (residing here thanks to residence family visa in Dubai) require services of daycare centers due to their busy daily routine. Most of the foreigners are residing here in pursuit of better financial position and spouses work together for this purpose. In this case, it becomes difficult for them to take proper care of their children. They have the resources to hire someone who can fulfill all requirements of their small children for whole day or some part of the day during their working hours.
For this purpose, the business related to babysitting and daycare centers are available. Babysitting and daycare provide same type of services of taking care of small children. But they are not exactly the same thing. There is a slight difference between these two services.
Difference between Babysitting and Daycare:
The difference between babysitting and daycare is due to the type of business location mainly. In babysitting, the service-provider goes to the house of client and takes care of children the whole day before arrival of parents. On the other hand, daycare centers are proper areas that have all the required facilities available for caring small children. Parents leave their children in these places before going to their daily job. They pick their children after coming back from their offices or working destinations.
Things to consider for daycare/babysitting business in Dubai
The most important thing to consider before starting such business in Dubai is that it is not only a profitable business but also requires lots of responsibilities as well. It should be remembered that you will need to take responsibility of someone else's children. You will be required not only to provide best security and safety to them but delivering them nutritious food, education and healthy entertainment will also be your duties. This need commitment, patience and initial resources to excel in the field. Lacking dedication or resources will make things difficult for the business to run successfully in Dubai.
Keep resources in your mind to manage the number of children you can accommodate. These funds will also determine the type of facilities you can provide that will allow you to charge fee from your customers.
The lifestyle of Dubai has diversity due to its mixed population. This type of business can get success in middle class areas as well as in posh areas. For this purpose, you will be required to choose right place for your business. Demand of such business is high in only those areas where both parents are busy outdoor and they can afford expensive fees of daycare center or babysitters. Therefore, it is important to get information about the locality and any competitor before setting up your business there.
Process of starting daycare/babysitting business in Dubai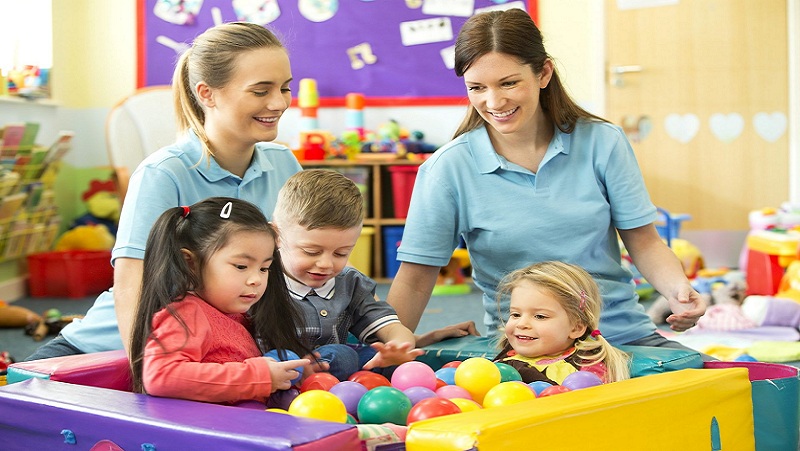 There is no doubt about the growth potential of daycare/babysitting business in Dubai. But there is a complete and lengthy process to get there. Following are important steps that you need to take before setting up your daycare/babysitting business in Dubai.
Business plan
The first and the foremost thing before setting up your daycare is a comprehensive business plan. This plan must be complete in all important aspects. You must be aware about your capabilities, resources and knowledge of the field. This plan must include healthcare, sports, education and other facilities you can provide to children. Marketing your business and your targeted locality is extremely important and it should be part of your plan.
Business Location
This is an important requirement especially for the establishment of daycare center. It is a necessary part of your registration process for daycare center to mention your business location. It is important to select your location according to prospects of growth of your business and financial condition.
Necessary equipment
You need to invest in your business to gain profits. The initial investment especially includes equipment that is required for better functioning of your business. Books, toys, food, playground equipment and other tools will be required for attracting more clients towards your daycare center.
If your daycare center is lacking these items, then there are very huge chances that people would like to choose other properly-equipped centers for their children instead of your even if your competitors are away from your possible clients.
Business License
After taking all these important measures, the main step is to take appropriate license for opening your daycare center in Dubai. This type of business activity requires professional license to operate in Dubai. Main authority to grant to license is DED (Department of Economic Development) for both these professions (daycare center and babysitting). In case of daycare center, additional approval from KHDA (Knowledge & Human Development Authority) is also necessary.
Insure your Business
The last but not the least step is insurance of your business. Handling small children is extremely difficult and risky job. The rules are quite strict in Dubai and even minor mistakes can sometimes create big problems for such businesses. Therefore, consider it mandatory part to get insurance of your business.
These are the most important steps and requirements for setting up a daycare or babysitting business in Dubai. For complete guide and practical assistance in this matter, you can contact us via our WhatsApp # 971-56-9971225 or email address info@rizmona.com.