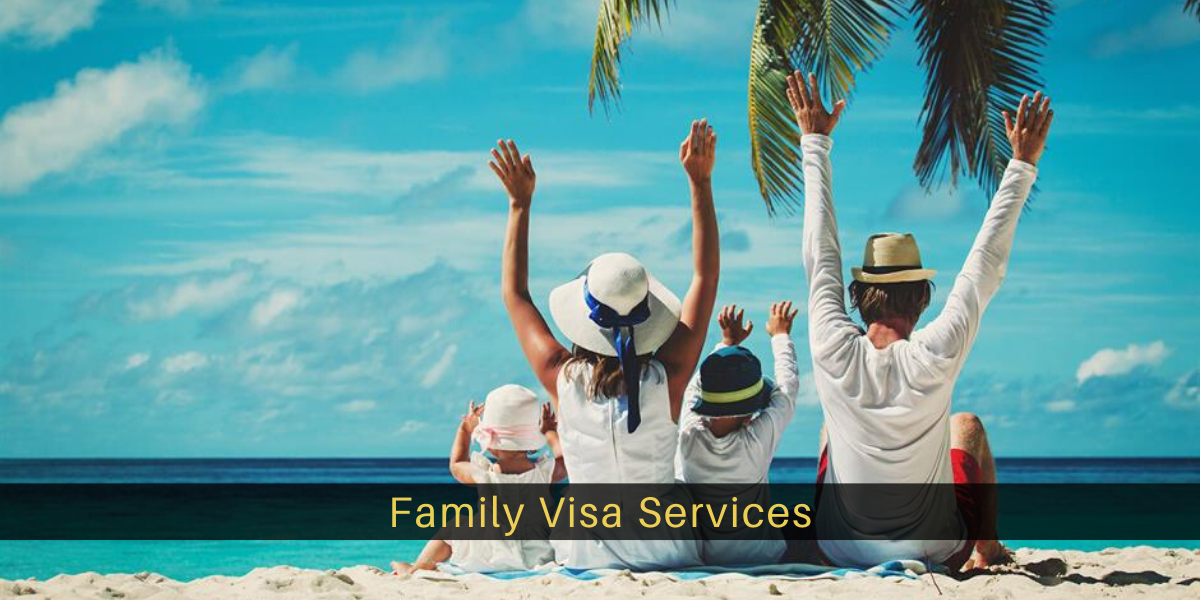 There are numerously employed and residing ex-pats living in Dubai/ UAE. They stay apart from their families leaving their friends, their wife, and their children behind. It is not very difficult to sponsor the family to Dubai and one can apply for the visa very quickly. In Dubai, you can even recruit family visa services to assist with the process and the paperwork.
If your family resides outside the UAE and you choose to apply for a family visa in Dubai, a certain standard must be met. Family Visa Services is for expatriate residents living in UAE who want to bring their immediate family members such as wife and children. There are certain procedures to follow as per the UAE government rules and regulations to sponsor dependent visas. Each kind of visa will have different documents requirements and fee structure. Sponsoring your family to come to stay with you in the UAE requires a fixed monthly wage. In order to be able to sponsor your wife or children and receive a family visa in Dubai, you must earn a minimum monthly amount needed by the Dubai government and provide accommodation as per the law. You can even offer a family visa for your business associate and your staff along with the family.
Requirements to Get Family Visa
Family visa here means only you can sponsor your immediate family such as wife and children depend upon the criteria specified by the government of UAE. One of the main criteria is the minimum salary of the sponsor should be 4000 AED including accommodation to sponsor his immediate family. To sponsor one's parent/parents there are different requirements which will be explained by our visa process experts.
Family Visa Application Duration
It totally depends on the documents you submit. If all the documents are in line with the requirement as per the immigration rules, the visa will be issued within 3-4 working days.
Documents Requirement – For Wife or Children
To get a spouse visa in Dubai, you should first apply for an entry permit. You will need the following documents for their entry permit.
Sponsor's Original Passport.
Sponsor Original Emirates ID Card.
A typed application form.
For government employee a salary certificate and for the other employees attested work contract is needed.
Three months bank statement for long-time residents. If you are a new resident, a bank statement of one month will be needed or a bank letter confirming salary transfer will be sufficient.
A tenancy contract attested.
Labour card.
Original EJARI Certificate along with Last Paid Electricity Bill. (If the sponsor is living in another state than Dubai, he will require an attested tenancy contract and paid the electricity bill. Tenancy or EJARI should be on applicant or spouse name.)
For a wife visa in Dubai, a marriage certificate (original and copy) will be needed, that has been attested by UAE authorities (for UAE marriages) or in case the marriage has taken place in your home country. It should be attested there by the concerned ministry, and finally stamped by the UAE embassy in that country. Then, get it cross-attested by the ministry of foreign affairs in the UAE.
If sponsoring your children, a birth certificate (original and copy, both certified) and a written statement for daughter above 18 years of age testifying that they are unmarried.
Passports and copies of the passport of both sponsor and family member.
Medical check-up report of wife or children over 15 years of age from the authorized clinic.
Colored passport size photos of the family member with white backgrounds (Keep around 15 copies always. You never know!)
For Government, Semi-Government or Free Zone Employees Original Salary Certificate is a must.
Required Documents for Visa Stamping & Immigration Dept:
Original visa of wife & child.
Original passport of wife & child.
Original medical certificate of wife
Emirates ID Registration form (Stamped application for wife at the time of finger print)
One photograph of wife & child
Sponsor's passport copy with visa page in color.
*Weak professions include: Follow up the clerk, Archives Clerk, Insurance Clerk, Sales, Sales Representative and Sales Executive, etc.
*Non-eligible professions include Light Vehicle Driver, Messenger, Eye Glasses Salesman and Maintenance Mechanic General Etc.
Please Note: Make sure to have all Original documents available with you. Applications will be rejected if any original documents are not available for verification. Documents are verified and scanned into the system, so make sure all Original documents are available.
What We Can Do
We at Riz & Mona Consultancy provide different types of Visa Services in Dubai and can manage the whole process for you. If you need more guidance regarding Family Visa Services in Dubai, do contact us!