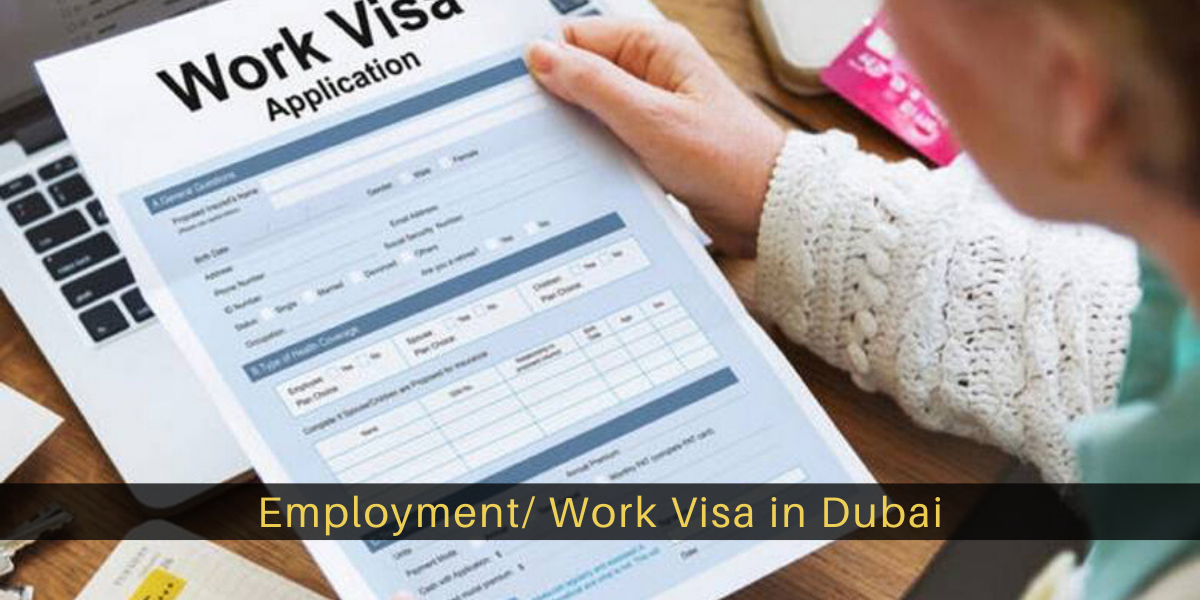 Dreaming about living and working in Dubai, nicknamed the "City of Gold"? However, to live and work in Dubai, you will need a work visa. A thriving and futuristic city that, according to the UAE Government, has more expatriates than UAE citizens, the process for obtaining a Dubai job visa is relatively simple. As Dubai continues to move at a rapid pace into the 21st century, labor demand to support this fast development is rising exponentially. With an anticipated spike of growth of almost all sectors driving the economy, the potential for jobs is ample and thus the numbers of ex-pats, both qualified and unskilled employees, are on the rise every year entering the country.
Employment Visa in Dubai
Here is how to get a work or employment visa in Dubai:
Steps for Getting a Work Permit and Visa
The process begins with what is called a 'work permit' from the Ministry of Human Resources and Emiratization (MoHRE). The company/organization that has hired you has to bring you in on this permit/employment entry first, following which they will convert it into a residency visa. The work permit allows the holder to enter the UAE for employment, and it is valid for two months from the date of issue.
For employment outside the free zones, there is no need to secure a work permit prior to traveling, but an entry visa on arrival must be obtained. When the worker lands in UAE, an Employment Entry Visa is collected from a desk prior to the immigration checkpoint, which is valid for 60 days while the work permit is being processed.
Step 1: Apply for Employment in Dubai
To get a Dubai work visa, it is essential you have an offer of employment from a business in the UAE. Whether you are transferring from your country to your company's office in Dubai or beginning a position with a new employer, you cannot obtain a Dubai job visa without a job, as you will need a UAE sponsor to remain in the country. While it is recommended you find employment before moving, it is also common for foreigners to travel to the affluent city and search for work while there.
Step 2: Begin the UAE Work Visa Process
Once you've found employment in Dubai and accepted a position, your employer is then responsible for submitting the initial paperwork to the Ministry of Human Resources and Emiratisation (MoHRE) to begin the UAE work visa process. Your employer is also required by law to pay the fees associated with the visa. In total, the beginning stages of the UAE work visa process takes about two to three weeks. The MoHRE will then send you a two-month work permit that allows entry to the country.
Step 3: Paperwork for Dubai Work Visas
With your two-month work permit in hand, as well as the help of your employer, you can now begin collecting the necessary paperwork for your Dubai work visa. These documents may include a completed application, valid passport with a minimum validity of six months, copies of your employment contract, education certificates, etc.  Additionally, all foreign applicants are required to go to a local hospital for a medical examination and health certificate.
Step 4: Submit Your Paperwork
Once you have compiled the compulsory paperwork for your Dubai job visa, your employer can help you send the documents to the Dubai's Ministry of Labor office. They will review, approve and issue your Dubai employment visa.
UAE Employment Visa Rules
To be allowed to work in the UAE, you as well as the company hiring you must fulfil the following conditions:
You must be at least 18 years old
The license of the company hiring you must be valid
The company must not have any violations
The work you do must correspond to the nature of the company hiring you
Documents required for Labour Card (Work Permit)
Applicant's photographs
Residency Visa
Valid Passport (minimum six-month validity required)
Valid health certificate
Copies of the employment contract
Education certificates and other evidence of professional qualifications
Sponsoring company's valid trade license
Types of Work Visa
As such a progressive business culture, the UAE offers business visas for skilled workers who will contribute to the country's economic prosperity and growth.
This is a 90-day business visa. It must be sponsored by a company in the UAE. It allows expats to enter the country and work for a short period of time. Some expats use this visa to explore the UAE before officially relocating.
Persons with Specialized Talents
This visa includes specialized talents and researchers in the fields of science and knowledge. This applies to doctors, specialists, scientists, inventors, as well as creative individuals in the field of culture and art. The visa advantage extends to the spouse and children. All categories are required to have a valid employment contract in a specialized field of a priority in the UAE.
The first self-employment visa requirement to fulfill is finding a sponsor. Sponsorship for self-employment can be obtained through a free zone, as a contractor through an established company, or through an individual. Self-employment visas are often called freelance visas. There are Several Self-Employment Visa Types to Consider:
Investors in a Property
Entrepreneurs
Investors in public investments of at least 10 million AED
Freelance
Dubai Work Visa Cost 
The cost of a UAE work visa depends on the category of your company and whether you are a skilled or unskilled worker.
Work Skill Level Classification in UAE
Level 1: These are the individuals who have a bachelor's degree or higher qualification. These are some of the qualified professionals: Manager, Engineer, Doctor, Teacher, Accountant, Accounts Clerk, Marketing Specialist, Pharmacist, Administration Officer, Public Relations Officer, Computer Operator, etc.
Level 2: Individuals under this category are those who have completed their diploma in any field. This category typically involves people who are in mechanical and technical jobs.
Level 3: If you have high school or higher secondary qualification. Sales Executive, Sales Representative, Sales Supervisor, Site Supervisor, Administration Clerk, Receptionist, Cashier, Store Keeper, Tourist Guide, etc.
Renewal of Dubai Work Visa 
All types of work visas for the UAE are issued for 1-3 years and can be renewed. Your sponsor has to renew your UAE Work Visa within the 30 days before it is set to expire. The UAE Work Visa renewal procedure is similar to when you first obtained your visa: your sponsor has to apply at the General Directorate of Residency and Foreigners Affairs in the relevant emirate.
What Riz & Mona Can Do
If you consider the time and complexity of all these steps, it becomes apparent why companies assigning employees to UAE often look for assistance.  The challenge lies in finding experts and resources inside the UAE that are familiar with local laws, and already have an established presence in the country to help you.  At a minimum, you need a locally incorporated entity to sponsor the work permit, as well as advice on submitting all of the requirements for procuring a work or employment visa.
Riz & Mona Consultancy already has the resources in the UAE to navigate all immigration, employment regulations.  Our visa experts in the UAE will handle the entire scope of work permit and visa applications for you, and ensure that your staff meet every one of the immigration requirements in UAE.